Swing state polls today: Here's who's leading in these key states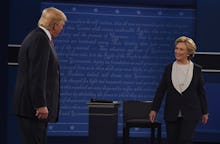 Across America, the story is the same: Since the release of #TrumpTapes a week ago, Donald Trump has continued a downward slide in the polls. Nationally, the RealClearPolitics average of polls gives Clinton a more than 5% lead. That lead is reflected in several key swing states. 
Begin with the electoral math: Clinton leads by at least five points in 19 states, enough to get her to 256 electoral votes — just 14 shy of the 270 needed to win the White House. That includes a nearly nine-point lead in Pennsylvania and a nearly 11-point lead in Michigan. 
For Trump to have a chance at victory, he must run the table in a daunting number of states: Florida, Iowa, Nevada, New Hampshire, North Carolina and Ohio. He must also win an electoral vote in Maine and keep Clinton from shaving an electoral vote from him in Nebraska. 
After this week, the chances of Trump pulling out numerous victories in large states appears unlikely. The latest polls give Clinton a growing margin in Florida and North Carolina. And recent polling shows her retaking the lead in Nevada and Ohio.
The takeaway: All of the swing-state polls released since Monday show Clinton with the lead. Meanwhile, Trump has again fallen under his 40 point polling ceiling nationally. 
Given that she only needs to poach one major state from Trump, like Florida or North Carolina, Clinton's odds of success have increased dramatically in the past few days.