Who is Carlos Slim? The Mexican billionaire is Donald Trump's latest target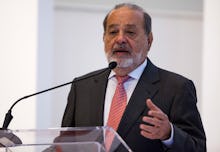 As new sexual assault accusations pile up against Republican presidential nominee Donald Trump, he is lashing out — at his party, at the media — and now at yet another mark: the reclusive Mexican billionaire Carlos Slim.
Speaking at a Friday campaign rally in Greensboro, North Carolina, Trump seemed to blame Slim for the New York Times' publication of allegations by two women who say Trump assaulted them.
"The largest shareholder in the Times is Carlos Slim," he said. "Now Carlos Slim, as you know, comes from Mexico. He's given many millions of dollars to the Clintons and their initiative. So Carlos Slim, largest owner of the paper, from Mexico..." Trump then called New York Times reporters "corporate lobbyists for Carlos Slim and for Hillary Clinton."
Slim is, in fact, a partial owner of the parent company of the New York Times, which Trump has threatened to sue over the assault story.
Trump's claim that Slim is the largest shareholder in the Times isn't technically true: He's the largest individual shareholder with a 17% share of the company, but the Sulzberger family still owns a controlling stake.
Brian Fallon, press secretary for Democratic presidential nominee Hillary Clinton, told the Wall Street Journal that Trump's allegations were merely a "deranged right-wing conspiracy theory."
And some journalists have pointed out the irony of Trump targeting Slim, given his Mexican heritage. During the campaign, Trump has faced backlash for his comments reinforcing racist stereotypes about Mexicans, whom he has described as "rapists."
A telecommunications mogul, Slim is one of the richest people on earth: His family is in possession of the fourth-largest fortune in the world.
His reputation is not without controversy.
Slim's control of Mexico's telecommunications business was so monopolistic, the Mexican government had to intervene to break it up. And Slim's $49 billion fortune has drawn resentment in a country where poverty is still widespread.
Until recently, Trump's relationship with Slim has reportedly been good. 
In fact, Slim's production company had plans to collaborate with Trump's production company on a television show — until Trump launched his campaign with the now-infamous remarks about Mexicans, Reuters reported.
October 14, 2016 4:20 p.m.: This story has been updated.