France rules transgender people no longer have to undergo forced sterilization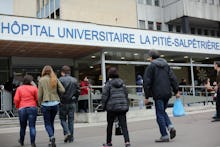 The French government passed legislation on Thursday doing away with a mandate that people who legally change their gender must undergo sterilization. According to the Verge, France had been one of nearly two dozen European countries requiring the government-sanctioned sterilization, a practice that has been condemned by branches of the U.N. and the World Health Organization.
A 2013 map on advocacy organization Transgender Europe's website shows Norway, Finland, Latvia, Denmark, Russia, Ukraine, Moldova, Romania, Croatia, Greece, Turkey, Georgia, Azerbaijan, Cyprus, Malta, Montenegro, Czech Republic, Slovakia, the Netherlands, Luxembourg, Belgium and Switzerland all had similar laws as of then.
"There is no other population in the world that is asked to be sterilized apart from transgender," Sophie Aujean — senior policy and programs officer of the European region of the International Lesbian, Gay, Bisexual, Trans and Intersex Association — told Reuters. "These are years of sparring that finally [came] to fruition," she said of Thursday's legislation.
While the new law may seem like a big step for France, not everyone is ready to declare victory for the trans community.
"France has sometimes done revolutions, but this is not a revolutionary law," National Transgender Association spokeswoman Delphine Ravisé-Giard told Reuters. Even in light of the new legislation, trans people still must go through the French court system to change their gender.