Seth Meyers lambasts Donald Trump supporters who dismiss his sexual assault allegations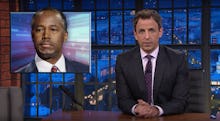 Seth Meyers has no patience for Donald Trump and his supporters. In a segment on last night's show called "A Closer Look," the late night host lambasted the Republican presidential nominee, as well as those who continue to defend and support Trump despite his numerous sexual assault scandals of late.
Trump supporters and campaign insiders have made various contortions to excuse Trump's numerous disgraces over the past week, from accusing the American public of being too sheltered to questioning the alleged victims' motives.
Former GOP presidential candidate Ben Carson, for example, told a female CNN anchor the negative reaction to the Trump tapes was the fault of people like her, who hadn't heard such language before. "Maybe that's the problem," he suggested on air. 
Others, including Trump himself, have suggested the timing of these allegations discredits them all together. 
"I'm just very skeptical of these allegations," Corey Stewart, the former Virginia co-chairman for the Trump campaign, who was fired Monday, told CNN Thursday. 
"I'll tell you why: I mean, look, he's a well-known billionaire," Stewart added. "If he had groped so many women over such a long period of time, don't you think they would have sued him instantaneously? That didn't happen."
Meyers displayed little patience with this line of logic. 
"When people ask why women wait to report sexual assault, that's why," the host told his audience. "Because instead of believing them, you question their motives. Stop pretending there's an optimal time for women to go public with these kinds of allegations. It's not like if you do it in the first 24 hours, you get a parade and an iTunes gift card."
Watch the full segment here: