Lady Gaga explains why women are accusing Donald Trump of sexual assault years after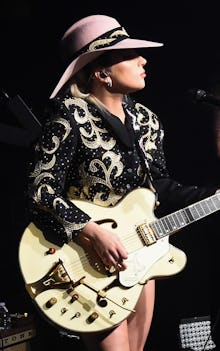 Lady Gaga has long offered a voice for sexual assault victims, using her social media platforms and music to highlight the challenges survivors face. Now that sexual assault has become a central turning point to the 2016 election, she's standing tall like never before.
Seven women came forward this week to accuse Donald Trump of sexual assault in the wake of his leaked hot-mic tape from 2005, in which he described how his star power allowed him to kiss women and "grab them by the pussy" without their consent. 
Some of the incidents in question date back to at least 30 years ago, something that a mass of skeptics took issue with in the viral #NextFakeTrumpVictim hashtag that trended Thursday on Twitter. A common question: Why had women waited so long to come forward with their allegations?
It's not an easy question, but Gaga attempted to signal boost some of the answers Thursday evening, tweeting with the hashtag #WhyWomenDontReport.
"Thank you to the panelists @AC360 for explaining why women are coming forward now," Gaga tweeted, shouting out a panel on Anderson Cooper 360° dealing with sexual assault. "Because Trump's words [at the] debate sent abused women into a panic."
Gaga is seemingly referring to the dismissive comments Trump made about his tapes being nothing more than "locker room talk." That may be true — however, that hardly excuses his words from being essentially a verbal embodiment of rape culture.
"For me, it was re-living it all over again," Gaga tweeted before referring back to her own experiences with sexual assault, which she first revealed back in December 2015. "I applaud these women."
She recommended people who don't understand why women hesitate to report their experiences check out the #WhyWomenDon'tReport hashtag to gain "a better understanding."
Gaga herself didn't initially come forward about the rape she survived early in her career because didn't want her accusations to cast a shadow over her art, as she explained to Howard Stern in 2015. 
"I'll be damned if somebody's going to say that every creatively intelligent thing that I ever did has boiled down to one dickhead that did that to me," she said. "I'm going to take responsibility for all of my pain, looking beautiful, and all the things that I've made out of my strife."
She's since changed her view and has shared her stage with sexual assault survivors, worked with lawmakers to try to come up with more comprehensive legislation to deal with campus rape and written songs describing the experience. "Til it happens to you, you won't know how it feels," she sang in her 2015 song "Til It Happens to You." The words speak to every politician and supporter who feels qualified to tell a women when and how she should feel about rape and when and how she should report.