Clinton vs Trump: Who's predicted to take the 2016 election?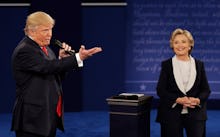 Republican presidential nominee Donald Trump is known to alter numbers and statistics when they're not in his favor — but he'll have to do a lot of work to ignore the latest polling data, which puts his opponent squarely in the lead.
Hillary Clinton now has a likely chance of victory, according to leading polling analysts — and she is currently enjoying some of the most bullish electoral projections of the race. FiveThirtyEight and the Upshot each give the Democratic presidential nominee at least an 80% chance of victory — the latter pegs her chances at 89%. 
FiveThirtyEight's most conservative projection, its Polls-Plus Forecast, which incorporates history and economics along with polls, puts Clinton's chances at 81%. When those trends are added to the polling data, Clinton's chances drop. This shows, historically speaking, Clinton could be in a much tighter contest than she is. But there is nothing historically usual about Trump. 
Sabato's Crystal Ball at the University of Virginia's Center for Politics is currently not predicting any toss-up states on its projected electoral map. Instead, the Crystal Ball projects 341 electoral votes for Clinton. Sabato's Crystal Ball consistently calls nearly 100% of down ticket races correctly and has called almost every state correctly in the past three presidential elections.
Cook Political Report, another election analysis group, is more conservative. It lists Florida, North Carolina and Ohio as toss-ups. But, with all the states that will likely or probably go to Clinton, she may need only one of those to take the White House.
Here is where the latest polls stand in a variety of states, including crucial swing states: