'Super Mario Run': Release date, download, price and what to expect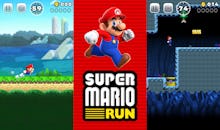 In case you missed it: Mario is coming to the iPhone. Super Mario Run was announced at Apple's Sept. 7 event with the franchise's legendary creator Shigeru Miyamoto detailing the news himself. The game is iOS-exclusive and will mark the first Mario title released on a smartphone. Here's what we know about Super Mario Run so far:
Super Mario Run release date
Back at Apple's September event, Nintendo vaguely teased that Super Mario Run was "coming soon," but a subsequent press release partially clarified that statement. Super Mario Run officially arrives in December, but an exact release date has yet to be confirmed. 
The game is definitely nearing completion, though. On Wednesday, Apple CEO Tim Cook tweeted a telling photo from Japan:
In the meantime, if you head over to the Super Mario Run page on the App Store, you can prompt your device to notify you once the game finally drops. 
Super Mario Run price
Upon release, Super Mario Run will be free to download and play. It will be a stripped-down version, however, with users having to make a one-time payment to access the full game. Nintendo clarified this arrangement in an email to TouchArcade:
iOS users will be able to download and enjoy a portion of Super Mario Run for free and will be able to enjoy all of the game content available in this release after paying a set purchase price.
What to expect in Super Mario Run
Super Mario Run is a classic side-scrolling game with automatic movement. The main objective of the player will be to jump in order to stomp on enemies as well as collect coins or power-ups. Take a look at an official gameplay trailer courtesy of Nintendo:
Three gameplay modes
The first is most reminiscent of old-school Mario games. You will guide the plumber to the end of the flagpole before time expires, all while collecting as many coins as you can and defeating any enemies who get in your way. 
The second mode, "Toad Rally," has you "challenge the play data of other players to show who can beat a course with the most style to impress Toads into joining you," according to Nintendo.
The last mode allows you to create your own Mushroom Kingdom using the Toads and coins collected between the first two game modes. Actual gameplay details on this mode remain unclear. 
That's the scoop on Super Mario Run for now. Be sure to sign up for notification in the App Store and get ready for a Mario-filled holiday season.