Donald Trump joked about being a sexual predator in a 2006 interview with Howard Stern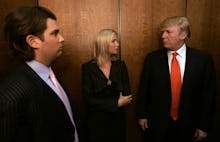 In a 2006 interview with Howard Stern meant to promote the latest season of The Apprentice, Republican presidential nominee Donald Trump jokingly bragged about being a sexual predator while seated next to his daughter Ivanka.
The video of the interview shows Trump's awkward reaction to Stern and co-host Robin Quivers during a discussion about Ivanka's romantic relationships. 
"Donald, seriously, you know about sexual predators and things like that," Stern says in the clip, which has resurfaced as several women have accused Trump of sexual assault.
"You are one!" Quivers says.
Trump laughs and shrugs his shoulders, appearing to say "it's true" under his breath several times. 
Watch the interview here:
Trump's campaign has been roiled in recent days by accusations of sexual misconduct by numerous women alleging assault of the span of many decades. The revelation of a recording from 2005 in which Trump bragged about grabbing women sparked a series of other alleged victims to come forward.
Trump defended himself against the accusations at a rally in Florida on Thursday.
"These vicious claims about me of inappropriate conduct with women are totally and absolutely false," Trump told the crowd.
Oct. 14, 2016, 11:59 a.m. Eastern: This story has been updated.