WikiLeaks releases another round of Clinton campaign chairman John Podesta's emails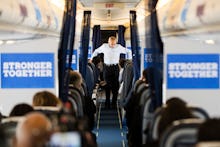 Just as it's done every day this week, WikiLeaks has released another batch of hacked emails from Clinton campaign chairman John Podesta. 
In one emailed missive released Friday, Podesta wrote he was "getting fucked" by hedge fund billionaire and environmentalist Tom Steyer, after Steyer announced he'd only financially support political candidates who promised to introduce sweeping and meaningful environmental policy. One such stipulation included ensuring only renewable or nonharmful forms of energy are used for all of the country's electricity by 2050.
Other Podesta emails have shed light on contentious issues like Hillary Clinton getting paid to deliver speeches to private banks. They also showed that a Clinton campaign staffer made disparaging comments about Catholics and evangelicals.
Including the most recent batch dropped Friday, WikiLeaks has made public approximately 10,000 emails from the Clinton camp — about one-fifth of the number of emails it says it will release.
The Clinton campaign has neither confirmed nor denied the legitimacy of the emails, but it maintains the hacks were committed by Russian spies in order to sway the American presidential election in favor of Republican rival Donald Trump.
However, there have been no revelations so damning as to supersede the national attention Trump is getting for the recent sexual assault scandals — and his own discussion in a leaked tape from 2005 of how his celebrity status would allow him to grope women.