An 11-year-old girl asked Mike Pence about body image, so of course he talked about ISIS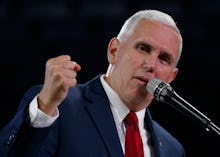 Women have awful perceptions of their bodies because of terrorism, according to Republican vice presidential candidate Mike Pence. 
In an interview on Thursday with local Columbus, Ohio, station 10TV, Pence was asked a question about an 11-year-old girl who expressed concerned about her self-image after hearing awful sexist remarks made by the Republican presidential nominee Donald Trump. 
Naturally, Pence pivoted and responded to the question with inane remarks about how the Trump-Pence ticket will lead the fight against terrorism:
"Well, I would say to any one of my kids and any children in this country that Donald Trump and I are committed to a safer and more prosperous future for their family," Pence said. "The weak and feckless foreign policy that Hillary Clinton promises to continue has literally caused wider areas of the world to spin apart. The rise of terrorist threats that have inspired violence here at one, and we've seen an erosion of law and order in our streets." 
A "safe and more prosperous America" is a great hope. But the 11-year-old asked about the negative impact that Trump's misogyny has on young girls — not about the fight against ISIS.
Pence's answer comes on the heels of multiple women coming forward publicly and claiming Trump had sexually assaulted them in the past. Women have spoken out after leaked footage revealed Trump bragging about sexually assaulting women in a conversation with television personality Billy Bush.
Pence's answer is just one example of the many tactics used by the Trump campaign to divert attention away from and quell down the hysteria surrounding the GOP nominee's past.