Kristin Anderson is eighth woman to publicly accuse Donald Trump of sexual assault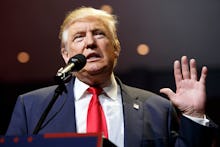 Yet another woman came forward on Friday to accuse Donald Trump of sexual assault, bringing the total number of women who have publicly said Trump groped or kissed them without consent to eight.
The latest woman to come forward is Kristin Anderson, who told the Washington Post that Trump reached up her skirt and touched her vagina over her underwear at a nightclub in the 1990s.
Anderson's story was corroborated by multiple people, who told the Post that Anderson had told them about Trump's groping shortly after the alleged incident took place.
Trump spokeswoman Hope Hicks denied the incident in a statement to the Post, calling Anderson's account "phony" and charging that Anderson was "looking to get some free publicity."
Women like Anderson have been coming forward over the past few days to allege that Trump sexually assaulted them.
Most began coming forward after the second presidential debate, in which Trump dismissed his 2005 comments — in which he said he could grab women "by the pussy" and kiss them without consent — as "locker room banter" and issued a blanket denial that he had ever actually sexually assaulted women.
The problem for Trump now is that before the second debate, he paraded out a group of women who had accused former President Bill Clinton of sexual assault.
Trump and his surrogates said "every" woman who accuses a man of assault should be believed, making their blanket denial and subsequent attacks on these women not only ring hollow, but look hypocritical.