Common details new album 'Black America Again' — the track list and features look fire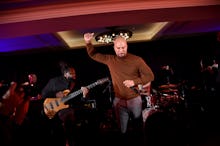 To hear him tell it, Common will be "rewriting the black American story" with his 11th album, and he's gathered an all-star cast to help him do it. The Chicago rapper shared the track list for his upcoming Black America Again on Friday, and he's got some of the biggest names in the business lined up for features.
As the album's title track revealed, the almighty Stevie Wonder will be offering his keys. R&B stars John Legend, Syd tha Kyd and BJ the Chicago Kid will also make appearances, as will Bilal, the man who made all other Prince tributes obsolete, on four of the tracks. Floetry singer Marsha Ambrosius, Atlantic Records signed singer-songwriter PJ and contemporary gospel singer Tasha Cobbs will also appear.
Common also shared the album cover, which features a blurred watercolor wash-out of two black women's hair.
According to a recent Billboard interview, Common was originally planning on calling the album Little Chicago Boy, but felt the present titled carried more of the gravity he needed. 
"I felt like Black America Again was a strong statement and it also was a way to start the conversation to say Black America Again isn't only about the protesting and the justice," Common told Billboard. "Black America Again is about humanity and how we express ourselves, love and ways of feeling free."
The video for the title track gives a solid look at what that expression looks like. It opens with footage of Alton Sterling being pinned down and shot by police in Baton Rogue, Louisiana, before cutting away to a series of black faces, forcing the viewers to look into the faces of those who continue to bear the brunt of police violence.
The hip-hop veteran shared three tracks off the new album at a modified Tiny Desk Concert performance at the White House, during the South By South Lawn event they hosted in October. Robert Glasper accompanied the artist on keys and Bilal supported with additional vocals.
You can check the Black America Again track list below, courtesy of Pitchfork.
1. Joy and Peace (featuring Bilal)
October 14, 2016, 2:22 p.m.: This story has been updated.
Correction: Oct. 14, 2016