'Fantastic Beasts' Soundtrack: Here's the track list from upcoming 'Harry Potter' spinoff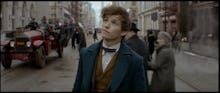 We're still a month away from the release of the first film in the Harry Potter spinoff series Fantastic Beasts and Where to Find Them. But the flood of trailers, featurettes and the announcement that we're getting five films in the series (ugh) that have started rolling out can only provide part of the picture. To match the success of Harry Potter, Fantastic Beasts needs a moving soundtrack that captures the essence of J.K. Rowling's expansive Wizarding World. 
Harry Potter site Pottermore unveiled the film's main theme Oct. 7, helmed by Emmy- and Grammy-winning composer James Newton Howard — whose previous work includes The Hunger Games franchise and Maleficent. Now, details for the entire soundtrack from Newton Howard and WaterTower Music are available ahead of its release on Nov. 18 (the same day as the film). The standard edition of the soundtrack features 17 tracks and 72-plus minutes of original music from the composer, according to a press release. 
Newton Howard noted the film required an expansive soundtrack to convey its emotional and thematic range. 
"The scope of the movie — emotionally, visually, in every way — is very broad," Newton Howard said in a statement. "There are funny moments, magical, beautiful moments, and there are some dark and scary moments. The music helps tell the story." 
Check out the track list, as well as the bonus tracks, for Fantastic Beasts below: 
1.  Main Titles — Fantastic Beasts and Where to Find Them
Deluxe — bonus, disc two:
1.  A Man and His Beasts