Summer Zervos, former 'Apprentice' contestant, accuses Donald Trump of sexual assault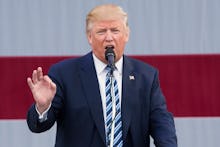 On Friday, Summer Zervos, a former contestant on The Apprentice, became the latest woman to accuse Donald Trump of forcing himself on her.
Zervos, a restaurant owner in Los Angeles, appeared at a press conference alongside famous civil rights attorney Gloria Allred, who has offered legal services to Trump accusers who fear legal retribution for coming forward with their stories.
In a remarkably detailed recollection, Zervos outlined her experience with Trump over the course of several interactions in 2007, her voice breaking at numerous points as she spoke.
Zervos was a contestant on season five of The Apprentice, the reality show that catapulted Trump to new levels of fame. On a trip to New York in 2007, Zervos said she reached out to Trump's office with the hopes of setting up a lunch meeting. Instead, she received an invitation to Trump's office.
"When I arrived he kissed me on the lips," Zervos said, echoing statements Trump himself made about kissing women on the now-infamous 2005 recording obtained by the Washington Post. "I was surprised, but felt that perhaps that was just his form of greeting."
Zervos was seeking a job, and said Trump told her he "would love to have her work for him." She said she gave Trump her phone number and left the meeting, calling her parents and a friend to express how upset the kiss made her.
Zervos lived in Los Angeles, and said Trump called her several days later to ask her to dinner at the Beverly Hills Hotel. When she arrived at the hotel, a security guard escorted her to a bungalow where she said Trump greeted her from another room. 
Trump emerged 15 minutes later wearing a suit and immediately began "kissing me open-mouthed," according to Zervos. She walked away, and Trump asked her to sit next to him on a loveseat.
"I complied. He then grabbed my shoulder and began kissing me again very aggressively and placed his hand on my breast," Zervos said. "I pulled back and walked to another part of the room. He then walked up, he grabbed my hand and walked me into the bedroom."
Trump allegedly asked Zervos to lay down on the bed and forced himself on her as she tried to push him away, telling him to "get real." That's when Zervos said Trump began "thrusting his genitals" at her. She objected, saying she had come to have dinner with him, at which point he relented and seemed "a bit angry," according to Zervos.
Zervos said she "wondered if the sexual behavior was some kind of test and whether or not I had passed." After dinner, Trump told her to meet him at his golf course the following morning. The general manager at the course offered Zervos a job "for half of what I had told Mr. Trump I was seeking in terms of salary."
Despite the traumatizing experience at the hotel, Zervos said she continued to seek employment with the Trump Organization as Trump "gave me the run around."
Zervos, who said she is a Republican, ended her statement by saying she had reached out to Trump again in April 2016 in an effort to clear the air. Trump did not reply to her messages. 
"You treated me as though I was an object to be hit upon, Mr. Trump, today I feel that you were interested in me only because you wanted to have a sexual relationship with me and for no other reason," she said through tears. "However, after hearing the released audio tapes and your denials during the debate, I felt that I had to speak out about your behavior."
"You do not have the right to treat women as sexual objects just because you are a star," she concluded.
The Trump campaign responded to Zervos' allegations later on Friday, with Trump denying he had met Zervos in a hotel or acted inappropriately.
"I vaguely remember Ms. Zervos as one of the many contestants on The Apprentice over the years. To be clear, I never met her at a hotel or greeted her inappropriately a decade ago," Trump wrote. "That is not who I am as a person, and it is not how I've conducted my life. In fact, Ms. Zervos continued to contact me for help, emailing my office on April 14th of this year asking that I visit her restaurant in California."
Oct. 14, 2016, 6:06 p.m.: This story has been updated to include Trump's statement.