A running list of all the women who say Donald Trump grabbed them by the pussy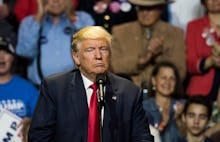 The list of women who have accused Republican presidential nominee Donald Trump of sexually assaulting them over the past few decades keeps growing.
The latest allegation is from Kristin Anderson, who, according to the Washington Post, said that Trump reached up her skirt and touched her vagina at a New York City nightclub in the 1990s.
Late last week, a video surfaced that shows Trump telling Access Hollywood host Billy Bush that his fame allows him to treat women however he wants.  
"I just start kissing [beautiful women]," Trump is heard telling Bush. "It's like a magnet. Just kiss. I don't even wait." 
"And when you're a star they let you do it," he continued. "You can do anything. ... Grab them by the pussy. You can do anything."
At the debate in St. Louis that came two days after the recording surfaced, CNN host and debate moderator Anderson Cooper asked the candidate whether he was guilty of such actions.
"Have you ever done those things?" Cooper asked straight-out, after Trump deflected several attempts to get an answer.
"No, I have not," Trump finally replied, insisting that he and "women" share a "tremendous" mutual respect. 
But Kristin Anderson isn't the only woman to come forward with allegations that undermine Trump's claim.
Jill Harth, who was working with Trump on a beauty pageant deal in the 1990s, sued Trump for unwanted physical and verbal sexual advances.
She alleged that Trump tried to grab her "intimate private parts" under a table during a party at the Trump Plaza Hotel. She eventually dropped the lawsuit in 1997.
Jessica Leeds came forward this week, telling the New York Times that Trump groped her on a flight 30 years ago. "He was like an octopus," she said. "His hands were everywhere."
In a 2006 interview with Howard Stern, Trump appears to agree to one host's characterization of him as a "sexual predator."
Trump has repeatedly denied all of the claims against him.
"These vicious claims about me of inappropriate conduct with women are totally and absolutely false," Trump said during a rally in Florida on Thursday.
His campaign has vowed to submit proof that his accusers are lying.
Mic has ongoing presidential coverage. Please follow our main election hub as well as coverage of Donald Trump and Hillary Clinton.