Bayonne Muslim Community Center vandalized with racial slurs in New Jersey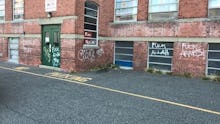 Local Muslim Americans in Bayonne, New Jersey, were shocked to find Islamophobic epithets and "Donald Trump" spray-painted all over the Bayonne Muslim Community Center on Friday.
Words such as "fuck Allah," "fuck Arabs," "Jesus Christ" and "fuck ISIS" were found plastered all over the red-brick building, which is also referred to as "Al Mi'raj Masjid."  
"It was sad to see this after our morning prayers," Waheed Akbar, an administrator for the mosque, said in a phone interview. "We believe our town, our city and our neighbors are a great set of people, and we always try to foster positive relationships with them."
The Bayonne Police Department chief and detectives have opened an investigation into the crime. The Council of American Islamic Relations' New Jersey chapter issued a press statement pressuring federal law enforcement to probe the Islamophobic hate graffiti in the local mosque.
"All Americans must be able to practice their faith and worship as they choose without fear of harassment or intimidation," CAIR-NJ executive director James Sues said in the statement. "We urge state and federal law enforcement authorities to investigate this incident as a possible hate crime."
According to Akbar, the spray-painted obscenities were quickly washed off with the help of worshippers at the mosque. But while the Islamophobic words are gone, the anti-Muslim sentiment has long lingered across the community.
The vandalism comes at a difficult time for local Muslims in Bayonne. The Bayonne Muslim Community Center, currently operating in two small rooms they rented in a basement of a local church, has been fighting to get approval from the city's zoning board since January to start construction for their new mosque. After heavy anti-Muslim opposition, the zoning board has postponed their board hearings and decision. 
Local Muslim residents fundraised money for several years to buy the old building and plan the construction of their new mosque. After being notified of the plans for a new Muslim community center, several city residents protested the construction.
Dina Sayedahmed, who serves as the youth organizer for the Muslim Community Center, said this was the first time the mosque had been vandalized. The 21-year-old New Jersey native says while Trump has definitely normalized hate in the country, she believes the Islamophobia and anti-Muslim sentiment always permeated the area. 
"Bayonne has always been Islamophobic," Sayedahmed said in a phone interview. "I even would see how my neighbors would treat other non-Muslim neighbors differently in comparison to my family."
The Egyptian-American, a daughter among five other children, said her neighbors would often ask about her feelings and attitudes toward ISIS. While commuting to work, Sayedahmed often has to walk past big "STOP THE MOSQUE IN BAYONNE" banners hanging over front porches of her neighbor's homes. 
Rising anti-Muslim tension has her concerned about the well-being of her community members. 
"I am worried about Muslims, immigrants and people of color living in Bayonne," Sayedahmed said. "I see them being afraid and scared. They're losing their conviction because they're scared of all the hatred targeted toward them."
Despite this, Sayedahmed said she won't let the attack in her house of worship make her feel any less welcomed. 
"I have a strong grip of my identity as an American Muslim," Sayedahmed said. "I am born here. I have a right to be here, and I am proud to be Muslim and American."