The 8 most controversial and offensive celebrity Halloween costumes of all time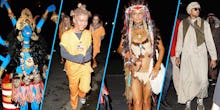 At this point, we know the drill: Every year just before October 31, we brace ourselves for a slew of offensive Halloween costumes. How many college students will go to parties dressed as stereotypical Mexicans, complete with maracas and a sombrero? How many pictures will we see on Twitter of celebrities wearing blackface? 
These Halloween faux pas are pervasive, even among celebrities — despite their immense fame, fortune and access to resources and information. For whatever reason, they just don't have a clue that what they're doing is culturally insensitive. 
So here are eight instances of famous people choosing to wear some of the most offensive and baffling Halloween costumes to date. 
Heidi Klum as Hindu goddess Kali 
Model Heidi Klum has a reputation for going over the top when it comes to Halloween costumes — she even hosts an annual party that she completely transforms herself for. In past years, she's gone as characters like Betty Boop, Cleopatra and an anatomically correct female monkey. 
But in 2008, Klum messed up. She attended her annual bash dressed up like the Hindu goddess Kali, turning a sacred and highly revered figure in the Hindu religion into a comical costume. When reporters asked Klum on the red carpet why she chose to go as Kali for the event, she responded, "I loved it because she's so mean and killed all these different people and [had] fingers hanging off [her] and little shrunken heads everywhere." 
And that obviously didn't go over with people who practice Hinduism. According to the Times of India, the Hindu statesman Rajan Zed said of the costume: "Goddess Kali is highly revered in Hinduism and she is meant to be worshipped in temples and not to be used in clubs for publicity stunts or thrown around loosely for dramatic effect."
Paris Hilton as a Native American 
Paris Hilton, at a Playboy mansion Halloween party in 2010, dressed up as a "Native American woman." And much like any other white girl who has attempted to do this, it was entirely not OK. 
While her sister Nicky Hilton attended the party by her side in a completely inoffensive SuperGirl costume, Hilton decided to go as a sexified Native woman. 
As Jezebel noted at the time, "If she'd added a long black wig, it could have been Cher! Instead it was just racist."
Nicky Hilton as a Native American too (no, really)
Seems like the Hilton sisters didn't learn their lesson of "Don't dress up as a Native American woman for Halloween," because in 2015, Nicky Hilton attended a Halloween party in Hollywood also dressed up as a "Native American woman," too — wearing her hair in two braids and donning a beaded headband and a dress with beads and fringe.
As Mic reported last year, "You'd think that with such a reliable outrage cycle, not to mention the now-ubiquitous and increasingly nuanced debates over cultural appropriation, that stars would just steer clear of the more controversial costumes. But not Nicky Hilton." 
As far as culturally appropriative costumes go, this was just lazy.
Colton Haynes as Kanye West ... and Gandhi 
Back in 2011, actor Colton Haynes was a widely unknown up-and-comer in Hollywood, taking small bit parts in TV shows no one's heard of since. And that's when he decided to do blackface on Halloween. 
His intention was to go as Kanye West, dressing in a sweatsuit and a long gold chain. The problem though, obviously, is that he painted his face, neck and hands in dark brown paint. Not a good look.
The following year, Haynes did it again, dressing up as Gandhi for a Halloween party in Los Angeles. And he didn't forget the brown face paint for this one, either. 
Since those incidents, Haynes has apologized, saying, "I've gotten in trouble for ... a few of my costumes in the past and I wasn't aware that I was offending people, but that wasn't my intention at all, and I really— I haven't apologized yet, but I wanted to apologize for that. And that won't be happening again." 
Not the most earnest apology, but since those two incidents, Haynes has stuck with his promise, instead dressing as people like Ursula or Princess Fiona from Shrek. Still though, people aren't afraid to bring those costumes back to light. 
Chris Brown as a terrorist
Human garbage can Chris Brown, who somehow still has fans, decided to use Halloween 2012 to upset even more people. To a party hosted by Rihanna, Brown showed up dressed as a member of the Taliban. Prior to the event, he tweeted out a picture of himself and his friends with the caption, "Ain't nobody f***ing wit my clique!!!"
And that was exactly enough for people to sound off on Twitter. 
But rather than apologizing for the costume, which is what most celebrities are wont to do, Brown issued this statement: "Get over it, people! I was dressed as the people we killed — Bin Laden! And everybody who really mad about it: F*** y'all."
Eloquent as ever, Mr. Brown. 
Julianne Hough as Crazy Eyes 
To a Halloween party in Hollywood, California, Dancing With the Stars alum Julianne Hough gathered her posse of girlfriends and decided to dress up as the cast of Orange is the New Black, with Hough choosing to recreate the character Crazy Eyes. 
Sounds harmless, right? Though, except for merely slipping into some orange polyester and twisting her hair into buns, Hough decided to take one more step to try to make herself — a white woman —look like Crazy Eyes — a black woman. So she wore blackface. ...She wore blackface in 2013. 
People were, to say the least, completely and utterly perplexed. Uzo Aduba, who plays Crazy Eyes on OITNB, called it an "unfortunate situation."
Because of this uproar, Hough has had to apologize on numerous occasions, including one time two years later in 2015, too. 
Ashley Benson as Cecil the Lion 
This time last year, Pretty Little Liars actress Ashley Benson was asking the question that many of us ask ourselves: What do I wear on Halloween? To decide, she snapped a pic of herself in a lion costume, and asked her then-9 million Instagram followers: "Help! Can't decide on my Halloween costume this year! What do you think of this Cecil the Lion costume?" 
Of course, this was just a few months after Cecil the Lion was notoriously killed by a Minnesota dentist, and now here was Benson, seductively posing in a costume as an ode to him. Obviously people weren't happy, leaving comments like "this is offensive" and "wow, really?"
Benson ended up editing the caption so it just reads "lion costume," and then issued an apology to her fans.
Let's just hope that 2016 is the year where no celebrity tries to do any of the above.