Donald Trump suggests his sexual assault accusers are ugly and just want "a little fame"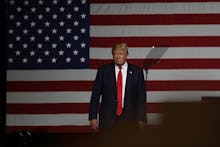 Republican presidential nominee Donald Trump went on the attack Friday afternoon against the now nine women who have accused him of groping and kissing them against their will, suggesting these women were too unattractive for him to grope or kiss, adding that they were merely seeking "fame."
"I've never met these people," Trump said during a rally in Greensboro, North Carolina.
"They have no witnesses, there's nobody around," Trump added. "Some are doing [it] probably for a little fame. They get some free fame. It's a total set-up."
Trump went on to suggest some of his accusers, including a former People magazine reporter who accused Trump of kissing her against her will and yet another woman who accused Trump of groping her on an airplane, were too unattractive for him to assault.
"Believe me she would not be my first choice," Trump said of Jessica Leeds, a woman who told the New York Times that Trump groped her on an airplane three decades ago.
Of Natasha Stoynoff, the former People reporter who wrote a first-person account of her alleged assault, Trump suggested his supporters "check out her Facebook page."
"You'll understand," Trump said of Stoynoff, suggesting she wasn't attractive enough for him to attack.
At the very moment Trump went on the attack against his accusers, yet another woman came forward to accuse Trump of assault.
Former The Apprentice contestant Summer Zervos said Trump kissed and groped her against her will at a hotel in Beverly Hills, California.