Missy Elliott new album 2017: possible release date, rumors, collaborators and more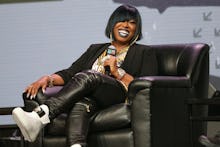 Missy Elliott lit the internet on fire in November 2015 when she released her "WTF (Where They From)" video on an unsuspecting public. The inventive choreography, futuristic costumes and onomatopoeic verses helped remind the world how much it's missed Elliott's funky hip-hop. But almost as soon as the music roared back into fans' eardrums, it faded back out again. 
One quick release, "Pep Rally," followed. It sparked a viral dance challenge that swept across Twitter and Instagram, but since, fans have only seen and heard Elliott the public speaker and icon — as a panelist down at SXSW and as an honoree at the VH1 Hip-hop Honors.
Hip-hop's matriarch is still planning to deliver another album. She discussed her plans with Billboard around the time of the "WTF (Where They From)" release. "I want to say 2016 but I don't want to give a time," Elliott said. "Nowadays you say a time, they'll stone you." 
They're a few months of 2016 left, but odds are Elliott will likely end up aiming for 2017. That likely won't anger too many people. Fans have waited 11 years already, and she's pledged not to drop it until it's 100% fire, the extra time will be worth it.
She's working with her mainstay producers, Timbaland and Pharrell.
Missy Misdemeanor isn't down to trust her music with any run-of-the-mill producer. It's got to be the best or bust. She told Billboard she's working with Pharrell and Timbaland, two recurring collaborators in her past, describing them as "the only two producers that understand me." 
Pharrell was the one who actually helped inspire her to dig into this album. "'I'm not trying to push you, but people miss you,'" Elliott told i-d about a conversation she had with Pharrell after her 2015 Super Bowl performance. "He was like 'I want to get in the studio with you.' Who turns down Pharrell? He flew me to LA and he put me up and we got in the studio and he said 'Yo! I got this crazy beat.'" 
That beat was "WTF" and after living with it for a while she wrote her verses, they cut the video, and the hype train started moving.
The album has been in the works for far longer.
In 2014, Timbaland let some details about the album slip, not giving away any specifics, just teasing a bit of its flair. 
"It's something you ain't never heard Missy do," he told Rolling Stone. "It sounds today, but the future." 
Two singles the pair released in the decade-long gap between The Cookbook, Elliott's last, and today, may give a bit of an idea how the artist is approaching her takeover. Elliott dropped "9th Inning" and "Triple Threat," both featuring Timbaland, in 2012, just "seeing what the climate was," as she explained to Billboard.
Both clock in at around four minutes, featuring Timbaland's signature busy, bouncing percussion. Trumpet stabs building the beat on "9th Inning," while far out synths fill the space on "Triple Threat," which starts halfway through the below video.
She's currently looking for the "illest new undiscovered dancers."
Alongside the beats and bars themselves, what's really allowed Elliott's music to turn heads are the incredible visuals she's always paired with her songs. She's been hailed as "one of the greatest music-video artists" and a "pioneer" up there with Michael Jackson. "WTF (Where They From)" was no exception, and it seems Elliott is looking to bring even more heat on the visual front.
"Where can I find the illest new undiscovered dancers," Elliott wrote on Instagram back in August. The comments, of course, are a flood of @'s. She's also been posting videos of her dance crew's rehearsals, the most recent being one of Comfort Fedoke warming up on Oct. 11.
Because Elliott seems to be keeping her circle so small for her upcoming project, it's unlikely fans will get too much information to leak. But the patience will pay off in a big way.