Title IX report: Mizzou fraternity gave pledges drugs to "incapacitate" women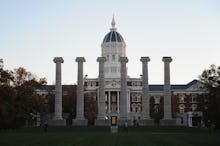 On Thursday, the Columbia Daily Tribune obtained documents from a Title IX investigation of University of Missouri fraternity Delta Upsilon revealing brothers may have given pledges drugs for the explicit purpose of "incapacitating" women.
"Active members of Delta Upsilon fraternity allegedly provided each new member with three pills and instructed them to drug women for the purpose of incapacitating them prior to engaging in sexual activity," the university's Title IX administrator Ellen Eardley wrote in a letter to the fraternity, cited by the Tribune. Eardley said drugging the women was "required" as part of Delta Upsilon's "initiation process."
These allegations are just the latest in a slew of complaints levied against the university's Delta Upsilon chapter, including reports of "assault, a theft, inappropriate behavior toward police and at least four incidents of providing alcohol to minors." Since August 2015, the fraternity has faced at least 18 sanctions from the university for these violations, according to the Tribune, and the chapter is currently on temporary suspension. 
In light of Thursday's revelations, it seems they're trying to avoid any more disciplinary actions. KOMU 8 sports reporter Mark Kim shared a screenshot of a tweet he says the fraternity posted and deleted, which simply showed the definition of "allegations."
But authorities may have reason to believe the allegations aren't entirely baseless. 
In mid-September, university police and EMS personnel received an emergency call from a woman whose two friends suspected she had been drugged. When they arrived at the scene, the woman was "pantsless, drunk and had smeared feces on the wall," according to the Tribune. Her friends told authorities she'd gone to Delta Upsilon for about an hour and a half that night. 
Delta Upsilon International Fraternity executive director Justin Kirk told the Tribune the organization is working closely with the university to investigate "recent issues, some of which [they] have just learned of within the last few days." 
Kirk added, "We will not condone or tolerate the type of behavior alleged in these incidents, and the chapter remains on a temporary suspension as our investigation continues."