'Pokémon Go' release date: Niantic designer talks future of AR and rumored 2017 release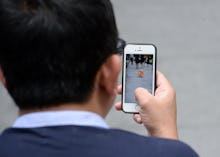 Niantic recently updated Pokémon Go with two new features that left most gamers pretty satisfied. Catch bonuses and a restructured gym system are welcome updates to a game that many feel has begun to stagnate. But according to Niantic, this is just the beginning. 
2017 Release and Future of Pokemon Go
We already know more Pokémon are on the way. These new creatures, along with general gameplay changes, have been dubbed "Generation 2" — which is rumored to release sometime in 2017. If the speculation is true, Niantic is about to seriously take things to the next level — a sentiment a member of Niantic Labs allegedly confirmed.
Raza Ahmad, a game designer and narrative creator at Niantic, recently spoke on a panel at UCLA's FuturizeX event — Reddit user Jwdarrenloh claimed to have "transcribed" the interview. 
According to the Redditor, Ahmad commented on the future of Pokémon Go, saying: "Pokémon Go is in the very beginning of what you will see in the fullness of time. This is page one of chapter one. It's not even fully released! We're still trying to adapt to the needs of our player base, and we're trying to adhere to the vision of how to build a community game based on the principles of augmented reality."
The Redditor also claimed Ahmad addressed the suspension of third-party tracking apps as well. "I'm not in the development team so I can't comment on our content release schedule," he reportedly said. "But what I can say is our intent with Pokémon is aligned to our vision of community exploration, and that won't be going away anytime soon. Whether that includes a full tracker or not, at this point, I can't say."
But according to Ahmad, these quotes were exaggerated and taken out of context. "The [original poster] on that thread sort of invented the interview and most of the questions, expanding on answers that were, by design, my version of 'I'm sorry, I don't know and can't comment,'" Ahmad wrote to Mic in an email.
Augmented Reality and Pokemon Go
Ahmad, however, provided further insight into the future of augmented reality, the technology Pokémon Go utilizes.
"I think we are at the beginning of something that will continue to evolve," Ahmad wrote. "At Niantic we are developing something new, not just technologically but in terms of exploring a new medium for story and game and social experience. We've been successful with Ingress, and more so with Pokémon Go, but we're just scratching the surface of what real world games and augmented reality can ultimately be.
"The technology is just starting to emerge, and it's only going to get better," he continued. "Our creative strategies evolve as we learn. My hope is that this will become a really vibrant space, with lots of different kinds of games and storytelling experiences going on inside it. It's going to be challenging and interesting — lots of opportunities to explore and obstacles to solve and surmount."
Despite the conflicting Reddit report, one thing's for sure: Pokémon Go has some big changes on the way. 
Oct. 15, 2016, 5:15 p.m.: This story has been updated.