JoJo 'Mad Love.' Review: Her first album in 10 years feels empowered but aimless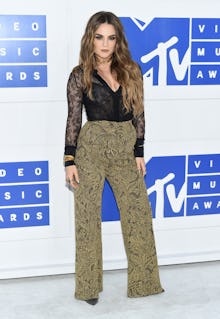 Joanna "JoJo" Levesque is finally free.
Ten years, two mixtapes and one incredibly long lawsuit with Blackground Records later, Joanna "JoJo" Levesque released her long-awaited third studio album, Mad Love, to huge fanfare. A decade is essentially an eternity in pop years, which generally runs on a tight 2-year album cycle. Only pop's biggest names, like Adele and Taylor Swift, usually earn the space to create, so there's a lot riding on this moment. Is JoJo now part of pop's masterpiece crew? Or have the past 10 years caused JoJo's talents to go stale?
After several listens, Mad Love. doesn't seat JoJo on either end of this spectrum. Loyal fans will have no problem falling right back in love with the star's smooth voice, but newcomers will likely be a little put off by the album's overall lack of identity. Too often, JoJo transitions from generic pop songs, like "Vibe.," to soulful ballads, like "I Am.," without much warning or purpose. The album may give the casual listener a bit of whiplash by switching styles so frequently.
But, that's not to say her album isn't a decent offering — because it is. It's just not the powerful statement of identity JoJo's comeback could have and should have been. Mad Love. presents a simple coming-of-age story with lyrics reveling in sadness, anger and, ultimately, acceptance — seemingly narrating JoJo's attempt to find herself after a decade-long absence from music. Unfortunately, she doesn't seem to have found anything quite groundbreaking.
One undeniable positive: Mad Love. is brutally candid, with JoJo finally letting the world see the struggles she's dealt with over the past decade. On "I Can Only." she seems to call out her former record label with some direct, honest words: "I can only drink what I wanna drink/ I can only say what I wanna say/ I can only think what I wanna think/ Don't hate me, don't hate." JoJo's no longer the innocent girl next door who is down to have her label try to tell her what she needs to look or act like. Instead, the 25-year-old singer is embracing her independence and encouraging others to do the same, with songs decrying the fakes and detractors.
While the experimentation is welcome — she mimics Selena Gomez's Revival album in her song "I Can Only." and lets some Joss Stone vibes come through on the album's title track "Mad Love." — it's hard to feel and hear something constant linking the styles. Take "Vibe." as an example. An upbeat tempo with lyrics that inarguably belong in a Rihanna song ("Boy, don't be killing my/ Boy, don't be killing my vibe/ My vibe, oh, my vibe"), it's unremarkable and seemingly off-brand, adding up to an altogether mediocre performance.
JoJo's at her best filling out powerful ballads with her intensely full voice. However, that's not exactly where the pop world is focusing its energies these days. The whisper is more present and dominant than the belt, and beats are what make or break a song. The album seems eager to bow to these trends far too readily, and in the process loses so much of what made her the youngest star to ever top the Hot 100 Billboard charts.
It's not until the last half of her album, which touches on acceptance and self-love, that JoJo seems to really come into her own. Without a second thought, "I Am." is JoJo's next big hit. "It's time to change up the game," she belts on one of the song's empowering verses. "Can't be that little girl no more/ The one you cut up on the floor/ I'm done with all the shame." They show a songstress that's fearless, ready to take the reigns and prove to the world that she is here to stay. But on the album, she seems to be battling with herself on how best to make that happen.
For someone who had been locked in a legal battle for seven years, you'd expect her comeback to feel far more passionate and a little less generic. This isn't the comeback album loyal fans waited 10 years for. JoJo still seems to be holding back, and while Mad Love. breaks the silence, it feels like the album that truly proclaims JoJo's the baddest singer in pop is still to come. Hopefully, that wont take another decade to craft.