3 militia members called "The Crusaders" arrested for plot to bomb a Kansas mosque and housing complex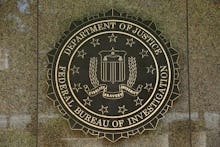 Acting U.S. Attorney Tom Beall said at a news conference Friday that three members of a group calling themselves "The Crusaders" have been arrested on domestic terrorism charges for plotting a bombing of a housing complex and mosque in Garden City, Kansas.
There are 120 people living at the apartment complex, which has a number of Somali residents. The Crusaders stockpiled weapons and considered a number of other targets, including public figures who showed support for the local Somali population, the U.S. attorney said.
Beall said an eight-month investigation took "investigators into a deep culture of hatred and violence."
In the criminal complaint against the three men — Curtin Wayne Allen, Patrick Eugene Stein and Gavin Wayne Wright — the FBI included transcripts of conversations among the Crusaders, including rants such as this:
The only fucking way this country's ever going to get turned around is it will be a bloodbath and it will be a nasty, messy motherfucker. Unless a lot more people in this country wake up and smell the fucking coffee and decide they want this country back — we might be too late, if they do wake up — I think we can get it done. But it ain't going to be nothing nice about it.
The attack was scheduled for the day after election day.
When reached for comment, Capt. Randy Ralston of the Garden City Police Department said, "We have cooperated with the FBI in this investigation."
While the three people arrested Friday may refer to themselves as a "militia," that term technically describes a state-regulated paramilitary force — not a group of people who declare themselves a militia.
Beall said at the news conference that if convicted, the three men face life in federal prison.
Jack Smith IV contributed reporting to this story.
Oct. 14, 2016, 5:36 p.m. Eastern: This story has been updated with details from the news conference.