New York polls: Who's leading, Donald Trump or Hillary Clinton?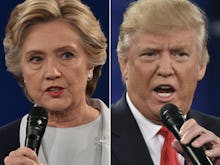 Despite the gulf that separates them on just about every key political issue this election, Hillary Clinton and Donald Trump do have one thing in common: Both presidential candidates are New Yorkers.
Democratic presidential nominee Hillary Clinton ran for senate in New York in 2000 and won. It was just a year before the horrific attacks of Sept. 11, 2001. She served until 2006 and ran for president in 2008. She and her husband, former president Bill Clinton, still have a house in Chappaqua, New York.
Republican presidential nominee Donald Trump's brash style is arguably a reflection of the city in which he grew up. He made a career out of being a symbol of New York City and transforming real estate in the Big Apple. He's been doing deals there since he started working for his father in the early 1970s. 
So how are Trump and Clinton faring in the polls in New York?
Clinton is trumping Trump by double digits.
According to the latest RealClearPolitics average of state polls, Clinton has a 20-point lead over Trump in New York in a head-to-head race.
Those polls do not reflect voters' views since the most recent slew of sexual misconduct and assault allegations came out against Trump in the past week.
The latest New York poll, conducted by NBC4/Wall Street Journal/Marist from Sept. 23-24, shows Clinton leading Trump 52% to 31%. Clinton has been leading her rival by double digits for months.
FiveThirtyEight gives her a 99.7% chance of winning the state and its 29 electoral college votes.
Mic has ongoing presidential coverage. Please follow our main election hub as well as coverage of Donald Trump and Hillary Clinton.