'Overwatch' Halloween Update Reviews: Here's what gamers and experts say about the patch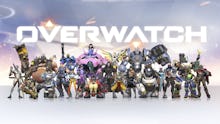 Blizzard released a Halloween patch for Overwatch just in time for the holiday. The new update offers a slew of custom skins (aka costumes), a new co-op brawl mode and general gameplay additions. 
The Overwatch blog reads: 
The fright for the future has begun, heroes, and for the next three weeks, we're celebrating the spookiest time of the year in true Overwatch fashion — with a brand-new seasonal event! Explore the haunted streets of Hollywood, expand your collection of themed holiday items and relive a chilling tale in our first-ever PvE brawl: Junkenstein's Revenge!
Mic has already detailed what the patch brings to the table — read it here. But what do gamers think about the update since it arrived earlier this week? For that, we turn to Twitter. Early reports are positive.
What gamers say about Overwatch Halloween
In case you're unaware, the goat emoji translates to G.O.A.T. — or "greatest of all time." 
What reviewers say about Overwatch Halloween
The reviews are just starting to come in, but they're mostly positive. 
At Forbes, contributor Erik Kain called it "just OK, not great." 
It's nothing all that special. You fight off some waves, hopefully work together with your team (I had one teammate who complained endlessly about not getting healing, but who never stuck with the team in order to, you know, actually get healing) and hopefully survive. "Medium" difficulty hits the sweet spot for this, as Easy is too easy, Hard is too hard, and yes this is starting to sound like Goldilocks and the Three Bears.
Heather Alexandra at Kotaku praised the new co-op brawl, Junkenstein's Revenge. 
Junkenstein's Revenge is a damn good time. I definitely want Blizzard to keep expanding on what they've added here. It makes me eager for a co-op mode that's not just a brawl. If Blizzard doesn't make a dedicated version of this that lasts beyond Halloween, it would be a huge mistake because this is amazing stuff.
Still, the 100-plus Halloween items and new gameplay mode have impressed the community. Pokémon Go could probably learn a thing or two from Blizzard, because gamers are loving the new Overwatch update.