Kings of Leon 'WALLS' Review: The band's gone dad rock, which is tragic but unsurprising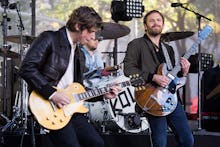 When the Kings of Leon first began teasing WALLS toward the end of last year, the band all but assured fans alienated by the Kings' increasingly stadium-rock sound that they'd be making a return to their rawhide country roots. 
"Our first two albums we recorded in L.A., so we're going to try to go back and see if it inspires us," lead singer Caleb Followill told the Associated Press. The critical consensus seemed to be that they were indeed moving in such a direction, and it felt right. The title alone of their last album, 2013's Mechanical Bull, recalls a staple of country dives, and had outlets like Entertainment Weekly extolling the band for "recapturing" their earlier sound. However, it felt "recaptured" in the way one would corner and subdue an escaped wild animal. It felt far tamer than the feral, dive-bar rock that made Kings of Leon famous. But that was understandable: The Kings of Leon are dads now. 
With WALLS, the band's seventh studio album (the name an acronym for We Are Like Love Songs), the Kings of Leon have dug themselves even more firmly in dad-rock territory. Maybe not quite so ostentatiously as on Beyond the Night, where tracks like "Use Somebody" seemed like they were designed in a lab to inspire chaperones to borrow their kids' lighters and hoist them in the air. 
But the sound is polished, even slick. It doesn't quite recall the like of Lynyrd Skynyrd or the Allman Brothers so much as that of the Foo Fighters. But even much of the Foo Fighters' work — widely credited for leading the charge to make rock safe — boasts more edge than WALLS.
Part of that is probably due to producer Markus Dravs — whose past producer credits include Coldplay and Mumford & Sons — who seems to have gone to great lengths to neuter the Kings' sound. Tracks like "Over" are utterly derivative, with a fuzzy bass loop backing shmaltzy lyrics.
I see the grass beneath me
It's a sad diary entry of a song that almost recalls "California Waiting," one of the band's first big hits. But the difference here is that back in the early aughts, lead singer Caleb Followill seemed content to slur and drawl his way through lyrics in a way that intensified the jangly, distorted guitars. It's just not quite the same when we can actually understand what he's singing.
Other songs on the album delve deep into pop territory, perfectly suited to advertisements and department store playlists. The lead guitar on on "Conversation Piece," for instance, is precise — but that only makes it easier to discern how plucky and repetitive his melody is. 
There's not a song on the album that doesn't put forth the sense that each component would sound better if the musician in question had a few less fucks to give and possibly another beer before recording. But a few songs have a healthy twang. Followhill seems to let himself go on "Eyes on You." And the album's opener, "Waste A Moment," kicks the album off with a pounding bass and a good kick of fuzz.
But on the whole you get the sense that these are dads now — like Jagger and McCartney and all the other great rock scions. They have bills to pay and radio airtime to chase; the more squeaky-clean the riff, the more likely it is to nail down that light beer or car commercial placement. But the Kings of Leon haven't earned their striped socks or tie clips in quite the same way as any of the names that headlined the lovingly named "Dadchella" fest back in October. Because they've gone to this level of dad this soon, the Kings of Leon's days feel numbered. Unless they turn their sound around — again — they'll be clipping coupons in no time.