Cuban cigars and rum: How do I buy 'em, what are the limits, and can I buy online?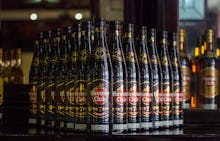 Cuba is building its brand back. When President Barack Obama last week lifted the limits on how much alcohol and tobacco U.S. travelers can bring back from Cuba, he gave a boost to Cuba's renowned exports: rum and cigars.  
The new rules allow travelers to bring an unlimited amount of alcohol and tobacco back to the U.S. from Cuba, as long as duties and taxes are paid.
The only catch: You have to go to Cuba to buy them. 
Here's how much you'll spend — and how to buy rum and cigars without too much stress.
Now you can buy as much Cuban rum as you want.
The old rules stipulated that Americans could bring home only $100 in rum and cigars, which made shopping tough for aficionados.
Sure, you could find cheap bottles: Clear three-year old rum, often used to mix mojitos, is about $7 a bottle in Cuba, according to the Washington Post. Sipping rum, which is aged seven years, is closer to $20 a bottle. An an even higher class bottle might run about $40.
Now the sky's the limit — you can spend as much as you want. You'll just have to get it on the airplane.
Visitors can come home with the premium Havana Club Máximo, which goes for over $1,200 per bottle.
Cuban cigars: You can buy them — in person.
You'll now be able to buy cigars on the Cigar Aficionado's top 10 list, which cost between $250 to $650 per box. 
Previously, visitors to Cuba purchasing high-end cigars could select only a few to buy individually. 
In the five decades since Cuban cigars have been unavailable in the U.S., other countries have rushed to fill the gap.
The Dominican Republic is currently the largest supplier of cigars to the U.S., followed by Nicaragua and Honduras, as reported by Inc.
Cuban cigar-maker Habanos S.A., told Reuters that the island nation would "immediately gain" up to 30% of the U.S. premium cigar market once the embargo is lifted, ultimately getting to 70% of the market.
How do you travel to Cuba?
A direct flight from New York to Havana, purchased 30 days in advance, runs about $412, according to the site Fare Compare. If you're okay with a layover and want to get your ticket seven-days ahead it will cost you closer to $291, the site says.
Another technicality: Purchases are currently only for "personal use," which means the pop-up mojito and cigar bar you were thinking you'd launch after your return probably isn't going to cut it.
The new rules, which have come about since the two nations began normalizing relations in 2014, will also allow Cubans to get some U.S. goods online, allow Cuban pharmaceutical companies to do business in the U.S. and encourage Cubans and Americans to join forces on medical research, according to Reuters. 
The White House national security advisor Susan Rice marked the occasion in a speech on Friday by saying, "Already we're seeing what the United States and Cuba can accomplish when we put aside the past and work to build a brighter future," as reported by USA Today. 
She added: "You can now celebrate with Cuban rum and Cuban cigars."