A man with a "Gays for Trump" T-shirt and rainbow flag attacked a protester at a NC rally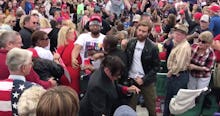 This protester was willing to fight for the man he loves — that man just happens to be Donald Trump. 
A protester at a Greensboro, North Carolina, Donald Trump rally found himself in a headlock after holding an American flag upside down. The person performing the headlock was a man wearing a "Gays for Trump" T-shirt and a Human Rights Campaign sticker on a "Make America Great Again" baseball hat, and holding a rainbow flag. 
Yahoo correspondent Holly Bailey captured video of the scuffle and posted it to Twitter on Friday. The video shows the protester in a headlock and being pushed out of the rally, and a police officer running over to stop the fighting. 
According to a local Fox affiliate, the violent incident happened after Trump pointed to the protester and told him to "Get out!"  
After the man leaves the rally, several rally-goers chant "U-S-A!" and then Trump continues to speak out against the protester. 
"That's what's happening to our country, that's what happening. That is total disrespect for our flag, that's what's happening to our country," Trump says on the video. "We're going to turn it around, folks. We're going to turn it around."
In another Twitter video shot from a different angle posted by CNN reporter Jeremy Diamond, the rally-goer with the rainbow flag collects high fives from other Trump supporters after the violent incident. 
Very few polls gauge how LGBTQ voters feel about the candidates, though one late September poll found that 72% of LGBT voters support Clinton, while 20% support Trump. Video also surfaced on Thursday of a gay couple attending a Trump rally in Cincinnati, Ohio, but they managed not to beat up anyone — at least on camera.