"The Crusaders" mosque bomb plot is latest in growing right-wing terror threat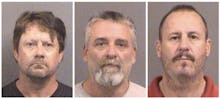 Federal authorities arrested three members of a right-wing, Kansas-based group who dubbed themselves "The Crusaders" on suspicion of plotting the bombing of a mosque and housing complex in Garden City, Kansas, on Friday.
The complex has approximately 120 residents, many of whom are Somali, Mic previously reported, and suspects Curtin Wayne Allen, Patrick Eugene Stein and Gavin Wayne Wright stockpiled weaponry in preparation for the planned attack. Their motivations were clearly ideological, with members of The Crusaders planning to kill Muslims and incite a religious war.
While the group was widely reported as a "militia," that term usually properly refers to a state-regulated paramilitary force. A better term for what federal prosecutors allege the group planned to do is terrorism. In one transcript, one of the self-proclaimed Crusaders says, "the only fucking way this country's ever going to get turned around is it will be a bloodbath and it will be a nasty, messy motherfucker."
The attackers planned to hit the mosque the day after election day.
The arrests are yet another reminder the right-wing extremist movement — in which organizations operating with a militia-style structure are joined by groups including neo-Nazis, white supremacists and others — has grown in power in recent years, and until recently, was responsible for more deaths from domestic terrorism than radical Islamic terrorists in the post-Sept. 11, 2001 period. One study by Dr. Arie Perliger, director of terrorism studies at the Combating Terrorism Center at West Point found that from 2002 to 2011, 254 people died as a result of far-right violence.
Weeks ago, a Texas lawyer wearing neo-Nazi emblems wounded nine people before dying in a shootout with authorities. Other mass shootings tied to right-wing extremists include a November 2015 mass shooting at a Planned Parenthood clinic in Colorado Springs, Colorado; the June 2015 massacre at the historically black Emanuel AME Church in Charleston, South Carolina, by a white supremacist; and a mass murder at the Sikh Temple of Wisconsin in Oak Creek, Wisconsin, by a white power musician in August 2012.
In early 2016, a group of armed ranchers led by the Bundy brothers seized control of a federal wildlife park in Oregon, causing at least one death and resulting in the arrest of leader Ammon Bundy.
In 2015, the New York Times interviewed terrorism experts at 19 law enforcement agencies across the country and found right-wing radicalization was their top terror concern. According to the Southern Poverty Law Center, hate groups, anti-government "patriot" organizations and terror attacks and plots proliferated throughout 2015.
Opinion polls have shown a wide array of Americans are upset with the government and other institutions of public and civic life in the U.S. But reactionary conservative resentment has also grown into outright outrage with rhetoric pushed by Republican presidential nominee Donald Trump and other factions of the U.S. right this year, with the Boston Globe recently interviewing participants at a rally in Cincinnati who advocated political violence and intimidation.
If Democrat Hillary Clinton is "in office, I hope we can start a coup," 50-year-old Dan Bowman told the Globe. "She should be in prison or shot ... We're going to have a revolution and take them out of office if that's what it takes. There's going to be a lot of bloodshed."
"I'll look for ... well, it's called racial profiling," 61-year-old volunteer election monitor Steve Webb added. "Mexicans. Syrians. People who can't speak American ... I'm going to make them a little bit nervous."