Latest presidential polls 2016: where Donald trump and Hillary Clinton stand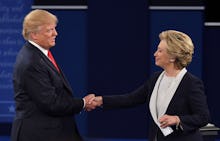 After two presidential debates, Democratic nominee Hillary Clinton maintains a strong lead in national polls against Republican nominee Donald Trump. 
According to polling site FiveThirtyEight, in a head-to-head match-up, Clinton is currently 6.3% ahead of Trump.  
She holds 49.2% of the vote nationally, while Trump has 42.9%. That translates to about 339 electoral votes for Clinton and 199 for Trump — the rough estimates mean that they don't actually add up to the 540 electoral votes up for grabs. 
Clinton got a strong boost in the polls after a clear victory in the first presidential debate. Her first debate bounce was even bigger than her post-convention bounce. 
Clinton continues to poll strong in several swing states, as well. Clinton maintains slim-to-strong leads in states like Ohio, North Carolina, Florida and Pennsylvania. 
Trump's comments still sting. 
It's been a week since leaked audio showed Trump making crude and aggressive comments condoning sexual assault against women.
"Grab them by the pussy," Trump says on the tape. "You can do anything."
Since the leak, no less than 11 women have come forward to say Trump has assaulted them.
Since last week, according to Fox News, Trump's support among women has plummeted. He's down 12 points among women over 45, 10 points among suburban women, 7 points among college-educated women and down 6 points among women who are Republicans. 
Americans will be watching the third presidential debate on Wednesday to see how, if at all, the candidates can make a final plea to voters.