Presidential Polls: Here's the latest numbers for Donald Trump vs. Hillary Clinton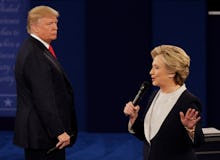 After having embedded the word "pussy" in acceptable media parlance, a round rebuke of his indefensible "locker room talk" defense and yet another Twitter meltdown, one might think that Republican nominee for president Donald Trump would be very, very far behind in the election polls.
Not necessarily so. Most polls put Democratic nominee Hillary Clinton ahead of her opponent, but her lead is variable — between four and 15 points, as of Oct. 16. Heading into the third and final presidential debate, here's where both candidates stand.  
Latest numbers before the third presidential debate
Presidential debate no. 3 is slated for Wednesday, Oct. 19. Clinton is generally agreed to have won the last two, and enjoyed a boost in her national ranking after the recent release of two rounds of audio in which Trump said some deplorable things about women. 
Trump's words have hurt him: After the Oct. 9 debate, master election forecaster Nate Silver noted a historic gender split amongst voters. The polls Silver presented showed that women were overwhelmingly with Clinton, her lead anywhere between six and 33 points over Trump. If women were the only ones to turn out on election day, Silver predicted, Clinton would enjoy a landslide win, with 458 electoral votes to Trump's 80. 
Within the general population, too, Clinton remains ahead of Trump. A Washington Post/ABC News poll released Sunday indicates Clinton has a four-point lead over the Republican candidate, with 47% of participants' support against Trump's 43%. While 7 in 10 of those surveyed agreed that he "probably made unwanted sexual advances" on women and most thought the apologies he offered for his behavior were "insincere," neither opinion of Trump's behavior affected his standing much.
But among those surveyed in an NBC/Wall Street Journal poll, also released Sunday, Trump's behavior during and since the debate has made a difference. Clinton enjoyed 48% support to Trump's 37%, while third-party candidates Gary Johnson and Jill Stein garnered 7% and 2% respectively. In a Clinton vs. Trump race, the Democratic nominee led the Republican candidate by 10 points. 
The same poll showed Clinton ahead of Trump by 20 points — 55% to his 35% — among women, but Trump leading Clinton by three points — 48% to 45% — among men. African-Americans sided with Clinton 86% to 9%, as did non-white participants, 76% of whom supported the Democratic nominee and 16% of whom supported Trump. White voters without college degrees tended toward Trump, as did independents. 
Latest swing state numbers
A recent batch of polls showed Clinton ahead of Trump in many swing states, CNN reported Friday. 
In Pennsylvania, a state that could be decisive for the 2016 election, Clinton has a nine-point edge over Trump, according to a Bloomberg poll published Thursday. The Democratic nominee leads her opponent 51% to 42% statewide, but in the suburbs, the support gap widens to 28% in Clinton's favor. As Bloomberg pointed out, that's 18 points larger than President Barack Obama's "winning margin" in the same Pennsylvanian suburbs during the 2012 election.
Clinton enjoys a double-digit lead in Michigan, where a Detroit News/WDIV poll released Wednesday shows her nearly 12 points ahead of Trump. In that poll, one in four Republicans who responded agreed that Trump should drop out. 
Before the #TrumpTapes' release, Trump was winning in Wisconsin; after, support shifted to Clinton, who had 44% support to the Republican's 37% in a four-way matchup, according to a Marquette Law School poll released Wednesday. 
Two polls from North Carolina suggest a narrow lead for the Democratic within the state: A Suffolk University poll from Thursday puts her two points ahead of the Republican candidate, while an NBC News/Wall Street Journal poll from Thursday shows her four points ahead in North Carolina and one point behind Trump in Ohio. 
According to state poll averages from RealClearPolitics, however, Clinton is up in most swing states, save for a few.