Beyoncé, Nicki Minaj, Lauryn Hill talk racial justice, female empowerment at Tidal X: 1015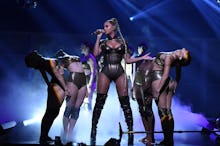 NEW YORK – Who run the world? Beyoncé first asked and answered this question all the way back in April 2011, a seeming eternity ago and perhaps a simpler time. President Barack Obama was likely just starting to contemplate his re-election campaign – one that would have some mudslinging, but nothing so vitriolic it would require a parental advisory warning before the debates. Bey had yet to break the internet and the music industry with her self-titled album. Black Lives Matter was a powerful phrase, but not yet a movement. 
Saturday night onstage for the Tidal X: 1015 concert – a charity event raising money for New York education and poverty relief via the Robin Hood foundation – Queen B reminded the world what it seems to have forgot: girls run the world. Girls are going to vote in November and have their voices heard.
"There's been so much negativity and nonsense, it could be easy to feel helpless and want to just block the world out," Beyoncé told the crowd in the middle of enjoying her song "All Night." "But doing nothing right now is not an option ya'll. I know it seems like things are bad, but if you think they can't get worse, just ask your grandparents." A wary cheer went up in the stands.
"Remember Barack Obama is our president," she continued. "You made that happen, young people made that happen. We are not helpless. The fire is still burning. Please go out and vote this November."
The whole night seemed to be driving towards this pinnacle. The nearly five-hour concert had an political undercurrent throughout, with the biggest performances making bold nods to the current movements at large. 
T.I. opened his set with his anthem of black resistance "We Will Not" off his Us or Else EP. Common spit his stunning "Black America Again" verse a cappella. The audience lit up for its lines: 
Instead of educate, they'd rather convict the kids
But they were the last two male performers to take the stage. The rest of the show was essentially a lesson in how to be a boss lady. Lauryn Hill, Nicki Minaj, Alicia Keys and Beyoncé took the show home with sets that played to their talents and each spoke to the movements at large. 
"I wrote this song about police brutality 10 years ago," Hill said as she strummed an acoustic guitar laid across her lap, referring to her "Rebel/I Find It Hard to See," which she released a new version of Sunday. "It's more relevant than ever."
Minaj launched into a brutal tirade speaking to all the empowered women across the audience: "If can't no weak-ass motherfuckin' clown-ass motherfuckin' nigga bring you the fuck down, make some mother fuckin' noise," she said. "You nigga's are so fuckin' weak. Y'all got the audacity to be intimidated by a bad motherfucking queen and get your motherfucking feelings hurt. But it's o-motherfuckin'-kay, because Barack needed a Michelle, bitch. And Bill needed a motherfucking Hillary, bitch. You better pray to God you don't get stuck with a motherfucking Melania."
This is how Tidal has truly distinguished itself from the rest of the streaming game. As Jay Z and Beyoncé's politics have moved from the background of their work right up to the microphone, their service has followed suit. It's hosted some of the most defiant political works of the year – from Damian Marley's "Nail Pon Cross" video to T.I.'s Us or Else EP to Jay Z's "Spiritual" to Beyonce's Lemonade. 
No other service or major music conglomerate has done more to proclaim black lives matter and women's voices matter than Tidal. It's now an integral portion of its brand and the message it communicates to its fans. They happen to be issues standing at the center of the 2016 election. As Nov. 8 draws nearer, fans can only hope that Beyoncé, Hill and Minaj have pushed those messages far enough.
Watch portions of the concert below via Tidal's livestream of the event while it lasts: