Watch the women in Donald Trump's life get revenge — sort of — in 'SNL's' "Melanianade"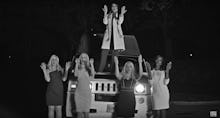 After listening to Republican nominee Donald Trump describe — months after the start of his most recent marriage — his practice of pawing women's genitals and his failed attempts to "fuck" a woman who was not his wife, one might have wondered how Melania Trump felt. 
In its recent "Melanianade" sketch, Saturday Night Live offered answers on that score. 
Inspired by Beyoncé's hit revenge album, Lemonade, SNL reimagined her song "Sorry" from the point of view of the women in Trump's life: his wife, Melania (Cecily Strong); his daughter, Ivanka (host Emily Blunt); his "mouthpiece," Kellyanne Conway (Kate McKinnon); his "one black friend," Omarosa (Sasheer Zamata) and his "other daughter," Tiffany (Vanessa Bayer). 
"You're breaking us," they say in unison on Saturday night's episode, swaying in tandem inside a limousine. "Taking it for granted that we'll always be there."
Instead of a plantation house, "Melanianade" takes the viewer inside Melania's gilded Trump Tower cage. Instead of throwing middle fingers up, the women imitate the weird, four-fingered hand beak Trump used to tell contestants "you're fired" on The Apprentice. Each airs their grievances with a man who's disappointed them on oh so many levels. 
"Don't get me wrong, I have a good life," Strong-as-Melania sings. "But Donald, don't underestimate your wife / I've got an Eastern-Euro mindset, might forgive I won't forget / Donald better watch out, me and my wardies 'bout to walk out / I see Mike Pence in the corner, lookin' for the back door."
"Without us you wouldn't be standing there," the women sing in unison, before Melania delivers the final insult: "You'd just be that guy with the weird hair / You'd just be that guy with the weird hair."
But, in an unfortunate-if-predictable twist, they all follow Alec Baldwin's Trump into the limo as soon as he summons them, except for Tiffany who — per usual — gets left behind.
None of the woman portrayed has commented on the sketch, though Trump — characteristically peeved at SNL's parody of his debate performance — tweeted his discontent with Baldwin's portrayal. 
Watch the full version of "Melanianade" below.