Nicki Minaj praises Hillary Clinton, rips Donald Trump at Tidal X 1015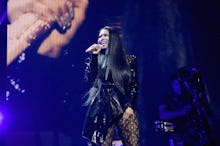 Rapper Nicki Minaj had some choice fighting words for thin-skinned misogynists, specifically Republican presidential nominee Donald Trump, at the Tidal X 1015 concert at New York's Barclays Center on Saturday night.
In between songs, Minaj criticized "fucking weak" men who are intimidated by impressive women and praised former Secretary of State Hillary Clinton and first lady Michelle Obama for being as accomplished as their husbands, Presidents Bill Clinton and Barack Obama.
"If you a champion female in this motherfucking building, if can't no weak-ass motherfuckin' clown-ass motherfuckin' nigga bring you the fuck down, make some mother fuckin' noise," she said.
"You niggas are so fuckin' weak. Y'all got the audacity to be intimidated by a bad motherfucking queen and get your motherfucking feelings hurt," Minaj continued. "But it's o-motherfuckin'-kay, because Barack needed a Michelle, bitch. And Bill needed a motherfucking Hillary, bitch. You better pray to God you don't get stuck with a motherfucking Melania."
Then, Minaj turned the heat on Trump and his spouse, former model Melania Trump.
"You better pray to God you don't get stuck with a motherfucking Melania!" she concluded. "You niggas want brainless bitches to stroke your motherfucking ego. Fuck you nigga."
No word on whether the rant has anything to do with right-wing host Ann Coulter, who confused Minaj and fellow luminary Beyoncé while mocking Michelle Obama as a role model on Friday night.