Donald Trump deploys strange new tactic: Drug test Hillary Clinton before third debate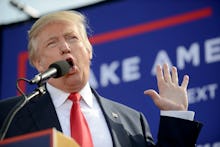 Perhaps this is Donald Trump's attempt to dispel those nasty cocaine rumors spawned by all his debate sniffling: Spin the drug-use narrative back on Hillary Clinton. 
At a Portsmouth, New Hampshire, campaign stop on Saturday, the Republican presidential candidate suggested that his opponent was using some kind of energy boosting — ahem — supplement in order to get "pumped up" for the debates. 
"She's getting pumped up for Wednesday night," Trump asserted, postulating that politicians are like athletes and, like athletes, should take drug tests.
"Athletes, they make them take a drug test, right?" the candidate continued. "I think we should take a drug test prior to the debate." 
"I don't know what's going on with her," Trump continued, "but at the beginning of her last debate, she was all pumped up at the beginning and at the end it was like, huh, take me down. She could barely reach her car."
Now, as CNN pointed out, none of this is close to proven. There was the episode at the 9/11 memorial in September, in which Clinton — following her campaign schedule despite a pneumonia diagnosis days earlier — nearly fainted and about which Trump was initially cordial. That period was short-lived, though: He later made his opponent's health and "stamina" a staple of his campaign rhetoric, going so far as to mock her with an exaggerated swoon at a Pennsylvania rally in early October. 
The assertion that the Democratic nominee might be doping, however, is brand new and baseless. Granted, Trump did set out for New Hampshire with the intention of addressing "the massive drug problem there, and all over the country," but who could've guessed that he meant Clinton? 
As mentioned, Trump was the recent subject of low-key and probably not serious drug use allegations after sniffling his way through the entirety of the first debate. Presidential candidate and former Vermont Gov. Howard Dean picked up on his sniffles and floated a theory for Twitter's consideration: "Notice Trump sniffling all the time. Coke user?" Dean initially stood by his suggestion but later apologized for "using innuendo." 
Still, the question was raised, which may or may not explain Trump's latest tactic: As he has done with accusations of sexual assault, he flipped claims made against him back on the Clintons. Deflection is the name of Trump's game.