North Carolina GOP HQ torched, Trump blames "animals" for the arson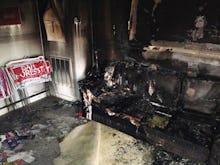 An unknown person or persons torched the Orange County Republican Party headquarters in North Carolina on Saturday night, the Charlotte Observer reported, spurring GOP presidential nominee Donald Trump to blame "animals representing Hillary Clinton and Dems in North Carolina" for the "firebomb" on Sunday.
According to the Observer, authorities believe the blaze started when a bottle of flammable liquid was tossed through the front window of the office, setting fire to its interior. The perpetrators spray-painted the message "Nazi Republicans get out of town or else" on a neighboring building.
The North Carolina GOP posted pictures of the damage to Twitter, showing large portions of the office more or less destroyed, with burnt signs for Trump, his running mate Mike Pence and other GOP candidates strewn throughout the office. Executive director of the state GOP Dallas Woodhouse labeled the incident "political terrorism," the Observer reported.
In a statement, Hillsborough Mayor Tom Stevens wrote "This highly disturbing act goes far beyond vandalizing property; it willfully threatens our community's safety via fire, and its hateful message undermines decency, respect and integrity in civic participation. Acts like this have no place in our community."
Over an hour before Trump blamed Clinton's supporters for the attack, Democratic nominee Hillary Clinton denounced the arson on Twitter.
Trump's oft-bigoted rhetoric on the campaign trail has earned him numerous enemies, including some within his own party — as well as endorsements from far-right groups, including white supremacists and neo-Nazis. But as no suspect has been arrested in connection with the arson, the motivation for the attack remains unknown.