Julian Assange, Pamela Anderson and poison vegan food: Here's what's behind the conspiracy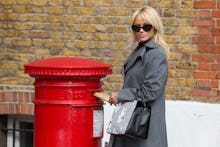 Did Baywatch star Pamela Anderson poison Wikileaks editor-in-chief Julian Assange with poisoned vegan food while doing some workaday espionage for the Clinton campaign?
No. But a handful of Twitter users started a rumor swirling that she did, because — on top of being an actress, model, clothing designer and animal rights activist — she is allegedly a spy who, in the course of her spying, killed Assange with kindness. Or so certain Twitter users would have you believe.
According to the Associated Press, on Saturday, Anderson visited the Ecuadoran Embassy in London, where Assange is hiding both from rape charges in Sweden and potential espionage charges in the United States. Anderson is apparently an Assange supporter who, out of concern for his health and in deference to his family, decided to bring him "a nice vegan lunch and some vegan snacks," as she told the U.K. Press Association Sunday. 
"He said I tortured him with bringing him vegan food," she added.
British tabloid the Daily Mail offered more details: Anderson was spotted entering the embassy with paper Pret a Manger bags in hand, which contained the supposed insidious vegan sandwich and "vegan snacks." The 49-year-old star was wearing sunglasses, as spies and non-spies do. 
As Mashable reported, Anderson was supposed to visit the embassy with fellow fashion designer Vivienne Westwood the previous day, but mixed up the dates and instead went solo. She wanted to talk about a trust she's setting up, according to Westwood. 
"She told me afterward that they got on very well," Westwood told the Mail. "Julian was just brilliant." 
The Twittersphere might have accepted that story, were it not for a series of three suspicious tweets dispatched by WikiLeaks on Sunday. People were quick to label the tweets a "dead man's switch" activated by Assange's assassination, according to Mashable. 
The most likely culprit? Hillary Clinton, of course, motivated by her desire to keep those emails private. The last celebrity to bring him gross sandwiches? Anderson. 
And just like that, a conspiracy theory was born: Former Baywatch star enlists in Clinton's secret army, assassinates Assange with sandwich. For some Twitter users, it was apparently a joke. For others, it apparently was not. 
WikiLeaks followed up with an explanatory tweet: "Assange's internet link [had] been intentionally severed by a state party." In that tweet, WikiLeaks did not comment on whether or not he was alive, or had been fatally poisoned by a sandwich. 
According to Gizmodo, Assange is still with us.
After the visit, Anderson maintained she had only Assange's health interests at heart, not matters of national security. 
"I really believe in him and think he's a good person, and I'm concerned about his health, his family, and I just hope that by some miracle he's set free," Anderson said, according to the Telegraph.