Latest presidential polls: Is Hillary Clinton or Donald Trump winning the election?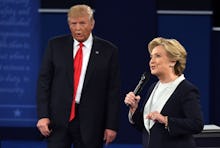 With about three weeks until Election Day, the poll numbers could not be worse for Donald Trump and Republicans. But as Trump has shown, 22 days is a near eternity in national politics: This election is not over yet. 
As of Monday morning, Hillary Clinton holds an impressive lead over her opponents in key states. Here's where everything stands.
National polls
Several organizations track an average of national polls. In the four-way presidential race, as of Monday morning, RealClearPolitics gives Clinton an average national lead of 5.7 percentage points. CNN's "poll of polls" gives Clinton an eight-point advantage. And FiveThirtyEight gives Clinton a more than six-point lead. 
Over the weekend, new surveys from top national pollsters gave Clinton decisive leads. An ABC News/Washington Post poll gave Clinton a four-point lead. An NBC News/Wall Street Journal poll put Clinton up 11 points. 
In 2012, Gallup and Rasmussen Reports projected on Election Day that Mitt Romney would narrowly beat Barack Obama. Obama beat Romney by about four points nationally in 2012, the first candidate to win at least 51 percent of the vote in two elections since 1956. Trump is more than seven points behind where Romney polled at this point in 2012. 
Clinton is not projected to win as much of the electorate as Obama did four years ago. The third-party candidates in 2016 are stronger than in 2012. But Trump's position around 40 points is not enough to win a national election. 
Read More From Mic: Donald Trump says "global special interests." Anti-Semites in the alt-right hear "Jews."
State polls
National polls offer an easily scannable overview of the election. But the projected route for Clinton comes from state level surveys. 
A new George Washington University poll of battleground states gives Clinton an eight-point lead, with the Democrat's lead growing six points since the last battleground poll in early September. As Nate Cohn of the New York Times pointed out, the poll's results are typically not expected to favor Clinton's party. 
This reinforces a narrative that has developed over two weeks. While a few national polls continued to show a competitive race, polls in swing states favor Clinton. The math is simple: Trump likely needs to win Florida, Ohio and North Carolina to have a chance at winning the White House. And given Clinton's large lead in Pennsylvania, his play at that state seems hopeless. This visualization shows the Democratic lead in a variety of key states. 
Clinton's lead is undoubtedly tenuous in some states. She leads in North Carolina by fewer than three points. Trump has the edge in Iowa. And in Minnesota and New Hampshire, two states that went strongly for Obama in 2012, Clinton leads by fewer than five and four points, respectively. 
But with Arizona in play, a solid Romney state, Trump appears more likely to lose a Republican stronghold than poach traditional Democratic states. 
The takeaway: It is too soon to declare the race "over." But by any measure, Clinton continues to maintain, if not grow, a decisive national lead and leads in key swing states. Trump's window to turn around the election is closing. 
But it remains unclear whether Trump even cares about the accuracy of poll numbers. For example, this tweet's reference to Clinton's support among female voters is entirely inaccurate. And he seems to think the race is close and winnable. 
According to that poll, Clinton holds an eight-point lead among likely female voters. And 51% of women polled said the comments on #TrumpTapes were "beyond how men typically talk." 
October 17, 2016, 8:59 a.m.: This story has been updated.
Correction: Oct. 17, 2016