Donald Trump explores launching a TV network as his presidential hopes fade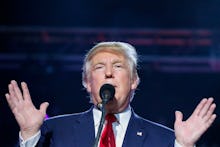 Donald Trump's son-in-law and a top campaign adviser, Jared Kushner, is helping Trump explore the possibility of launching a Trump-branded TV network, the Financial Times reported Monday morning.
Kushner met "informally" with Aryeh Bourkoff, the CEO of an investment bank that specializes in backing media companies, the Financial Times reported — evidence that Trump is looking for ways to profit off the movement he built while running for president if he does not win the White House in November.
It's been rumored that Trump was eyeing the launch of a Trump TV network.
Trump denied having TV network aspirations in an interview with the Washington Post last month, saying he had "no interest in a media company" and called it a "false rumor."
But Kushner's meeting with Bourkoff is a clear sign the bombastic businessman is beginning to make post-election plans that don't involve the White House.
Trump's odds at victory have fallen dramatically over the past month.
His support from women has collapsed after he publicly fat shamed a former Miss Universe winner, and then was hit by a leak of a 2005 tape that showed him bragging about sexual assault.
Trump now trails Hillary Clinton by around 5.5 percentage points in the RealClearPolitics polling average.