What's the best season of 'RuPaul's Drag Race'? All 11 seasons, ranked.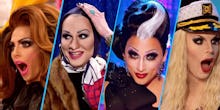 In 2009, RuPaul launched the first season of a little reality show on Logo designed to find the country's next drag superstar. RuPaul's Drag Race was an awkward-if-charming amalgam of Project Runway and America's Next Top Model, down to featuring Ru in Tim Gunn drag in the competing queens' workroom and the more recognizable, full-drag Ru hosting on the runway.
Drag Race was a quirky show that first year, with lots of ideas, little focus and a camera lens drenched in Vaseline. It wouldn't surprise anyone if the show would run for one more season, maybe two, and stay the kind of "gay TV show" that never broke out into the mainstream.
Eight regular seasons and two All Stars seasons later, RuPaul has a veritable drag empire on her hands, with an Emmy to boot. A hundred queens have come through the workroom of RuPaul's Drag Race, thirsty for the crown. Ten have won, most recently Alaska Thunderfuck 5000. Each season has been, at the very least, incredibly entertaining.
But which round of the Race has been the best? We've broken down each based on the cast, the challenge designs and the overall "story" of the season (generally speaking, what Ru and the producers were trying to say each year), ranking each on a scale from one to 10. Any ties were broken by writer's discretion. The results are below, starting with the worst season Drag Race produced.
11. All Stars season 1
Cast: 10
The genius of All Stars 2 deserves all the respect in the world, because boy, the original All Stars was a catastrophe. 
A brilliant cast, filled with Drag Race's best and brightest (Raven! Pandora Boxx! Latrice Royale!), was wasted on a bad format that forced them all into teams for the duration of the season. The challenges were poorly designed, and gave the season more of a variety show feel than a competition. The season also lacked any kind of coherent story, which is hard to build in just six episodes. It's little wonder it took Ru four years to do another All Stars season.
10. Season 7
Cast: 8
Initially, season seven's problem seemed easily diagnosed as having a bad cast — but looking back, that doesn't hold up. There were some disappointing girls, sure, but even forgettable queens like Kandy Ho and Jaidynn Diore Fierce had major moments. Winner Violet Chachki, runner-up Ginger Minj and Miss Congeniality Katya all could have competed with the best of Drag Race (Katya and Ginger just did in All Stars 2). 
The real problem was that season seven cast a bunch of fashion queens (Katya and Ginger excepted) in a season full of performance challenges. Said challenges were repetitive, poorly designed so that even those queens who should have excelled fell short (Trixie Mattel, Max). Additionally, the story, which saw the older queens pit themselves against their younger rivals, felt like a retread of season five's much smarter pageant vs. comedy battle.
9. Season 1
Cast: 6
Season one brought the kind of chintzy joy a Drag Race fan can't help but love. Remember Shannel's wild presentation of her Miss Mandarin runway? Or Michelle Williams of Destiny's Child breaking down in tears as Akashia lip-synced to her song "We Break the Dawn"?
Unfortunately, those joys are overshadowed by how both the show and cast feel budget in retrospect. (How the hell did Rebecca Glasscock get to the final three?) There were two or three strong queens (Ongina, Nina Flowers, Tammie Brown), but there wasn't much of a story. Drag Race was new, and thus it was the story. Season one is a good prototype, but not much more.
8. Season 3
Cast: 7
Season three is a fun season, but it's also a slog. It's the longest Drag Race season (15 episodes!) despite not having the largest cast (13 queens, compared to the series high of 14). The season basically froze on the top six queens for a month — there was one non-elimination week, then Carmen Carrera eliminated, then Shangela, then Carmen was brought back and eliminated again — before finally getting to the final four. 
If you forget the pacing, however, the Heathers vs. Boogers story was entertaining. It was probably the most outwardly antagonistic Drag Race has ever been, with two groups that could barely stand each other. Even that got old, though, and there were too many repetitive challenges. The cast strangely was filled with repeats, too — filled with a lot of the same types of queens. But standouts like Raja, Manila Luzon and Yara Sofia make it totally worth watching.
7. Season 8
Cast: 10
When season eight premiered, it felt instantly legendary. The cast was astonishing. The season-opening challenge was a tremendous tribute to the series' past, with almost every previous winner in attendance. Season eight was a strong rebound from season seven — or so it seemed. 
While the cast was strong, season eight's story felt shapeless throughout. Would-be villains Acid Betty and Derrick Barry never felt like legitimate threats, and the top four queens were playing RuPaul's Best Friend Race, not RuPaul's Drag Race. Additionally, after the first two episodes, the challenges just felt like half-hearted riffs on tired formulas. It wasn't a bad season, and it has a great winner, but it falls firmly outside of the top five.
6. Season 9
Cast: 8
Though it suffered from some pacing problems early on, season nine really cohered into something remarkable by the end. The top four was strong across the board, and surprise villain Valentina brought drama through the very end of the season. The challenges were entertaining and a bit out of the box, though nothing compares in unpredictability to the finale format change.
The true problem with season nine is a lack of coherent story. What was the big theme of the season? There were certainly good individual arcs and spikes of drama, but unlike the strongest seasons (two and five especially), the story seemed to be treading water for the majority of the run. Overall, a good season — better than its current reputation — but falls short of being a classic.
5. Season 2
Cast: 9
Judging purely by feeling, season two probably deserves to be higher. For many, this is the true original season of the show, still featuring some early installment weirdness but introducing several beloved regular challenges (Snatch Game, Reading Is Fundamental) and eventually transforming the show into a variant of what it is today. 
Yet season two is hamstrung by a very weak first few episodes, which included a pole dance challenge and a mini-challenge that involved scarfing down chicken. The early season feels like it's a much less interesting or respectable series. The cast, once it got down to the top seven, was spectacular, but the first few queens out were more interesting for their novelty than for their skills. 
The true triumph of the season is the story, which keeps things interesting by never settling on one villain. Was Raven in the right, or Tatianna? Was Tyra, or Jujubee? Instead of designating roles, season two featured a bunch of queens with different opinions of each other — which feels deeply true to life. That they've all continued fighting in the years since speaks to how lively and true their conflicts really were.
4. Season 6
Cast: 10
Top-to-bottom, the season six cast is phenomenal. Even the most annoying members (Gia Gunn, Laganja Estranja) contributed tons of catchphrases to the show's lexicon, and have assembled strong post-Drag Race résumés. The challenges were also strong, riffing on the format established in previous seasons with some fun twists. There's a fun talk show challenge that hasn't been replicated since, and Shade: the Rusical is the most fun live-singing challenge the show's ever done.
All that said, the story was a bit too manipulated. Two queens got basically the same growth arc, and the result was Trinity K. Bonet and Adore Delano facing off in the bottom two in one challenge, basically lip-syncing to see whose arc would continue. There was also a boring rivalry between BenDeLaCreme and Darienne Lake that, by all accounts, was almost entirely faked. Overall, however, it's a good season, with a hilarious winner in Bianca del Rio.
3. Season 4
Cast: 7
It's a bit surprising to see season four so high, but that's a credit to good story editing — the Sharon Needles vs. Phi Phi O'Hara rivalry; Willam's disqualification — and probably the best set of challenges the show ever produced. This season set the standard for what other seasons looked like (singing challenge, comedy challenge, design challenge) while trying some more ambitious things (can you say drag queens wrestling?). 
What keeps this season shy of the top echelon is the cast, which is very strong in its top ranks (winner Sharon Needles, Miss Congeniality Latrice Royale, eventual All Stars winner Chad Michaels, Drag Race bad girl Willam) but is otherwise full of busted queens (Jiggly Caliente, Dida Ritz) or forgettable messes (Milan, Madame LaQueer). It also features the most unlikable villain in Drag Race herstory, Phi Phi O'Hara, who returned in All Stars 2 as bad as ever.
2. All Stars season 2
Cast: 10
All Stars 2 could just as easily be number one on this list. There are a few flaws to pick at, like a reliance on tried-and-true challenges, but enough creative ones to keep the season interesting. Plus, the cast was jaw-dropping, bringing together 10 queens with specific, strong reasons to want redemption.
The second season of All Stars served as both its own competition and a tribute to the herstory of Drag Race. The story shifted seamlessly between Adore Delano's breakdown, Phi Phi O'Hara's villainy and the rise of Rolaskatox, leading up to one of the most triumphant episodes of reality TV in herstory. The season petered out at the very end, giving eventual winner Alaska a bizarre edit that turned her from fan favorite to controversial queen. But make no mistake: Even with that downturn, All Stars 2 is still nearly unmatchable.
1. Season 5
Cast: 9
Season five may be unbeatable. You've got a killer cast, with only one or two duds. (There's a reason half the All Stars 2 cast came from this year.) There were good challenges that didn't just repeat what season four did, though they admittedly got slightly less creative as the season went on. But what really makes season five the winner is its story — a simple one, about different styles of drag, that a lesser show would have made a footnote.
Instead, RuPaul, the queens and Drag Race's producers turned the debate between pageantry versus comedy in drag into an epic clash. On one side, you have pageant girls like Alyssa Edwards, Roxxxy Andrews and Coco Montrese who slay the runway every week. Then you had Jinkx Monsoon and Alaska, who brought hilarity to the challenges. It all culminated with Jinkx versus Rolaskatox (Roxxxy, Detox, Alaska), with the quirky underdog triumphing over the clique.
Season five was a master class in how to produce compelling, thrilling, substantive reality television. It is the best Drag Race has to offer. If season 10 wants a chance at topping this list, it'll have to be a near-masterpiece.
June 26, 2017, 8:01 p.m.: This post has been updated.
Mic has ongoing RuPaul's Drag Race coverage. Follow our RuPaul's Drag Race main hub.