Donald Trump polls: Where the candidate stands nationally ahead of Wednesday's debate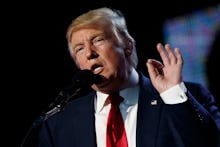 In order to win the presidential election, Donald Trump must expand on Mitt Romney's failed 2012 electoral map. To do so, he needs to secure states like Florida, North Carolina and Ohio. Then, he needs to poach a few states, like Nevada or New Hampshire, to edge Hillary Clinton's initial advantage in the electoral college. 
But with three weeks to election day, recent polls show Trump does not have the numbers to be successful. What's more, if these polls accurately project the election, Trump's losses could dramatically restructure what is assumed about presidential elections.
Trump is down more than 5 percentage points nationally, according to the RealClearPolitics average of polls. Trump has struggled to stay above 40 percent support in the polls for more than a week throughout the campaign. He currently hovers around 39 percent. 
Barring a third-party surge that draws support away from Clinton, that is nowhere near enough support to win a presidential election. In 2012, Mitt Romney drew more than 47 percent of the vote. With Gary Johnson and Jill Stein collectively drawing about 8 points of support nationally, Clinton still has about 45 percent supports among voters. And for all of Clinton's unpopularity, Trump's unfavorability with voters is more severe. 
In swing states, Trump continues to struggle. He trails Clinton in key battlegrounds, including Ohio and North Carolina, where a loss for Trump would end his White House bid. 
Trump has repeatedly overcome adversity and scandal of his own creation. But Election Day looms and his window to turn this campaign around is closing quickly. The final presidential debate is one of his final opportunities to reverse his three-week drop in the polls.