6 months after Aerie poked fun at male body positivity, this is what's gone down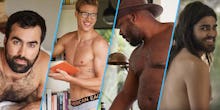 It even had us fooled. 
About a week before April Fool's Day, American Eagle's loungewear offshoot Aerie debuted a campaign called #AerieMan that celebrated a diverse array of male bodies. There was Kelvin, a blogger with a bit of a belly; Doug, who was quite hairy; Devon, who was long and lanky; and there was Matt, who was rather svelte. 
Though it was perhaps bizarre that a traditionally model-esque guy like Matt would be included in such a campaign, it seemed like progress. Especially since Aerie is a brand that prides itself on being body positive, casting female models of different body types and promising it will never airbrush images again, it was easy to think that this was just Aerie bringing men into their body-positive fold. 
On Twitter, there were vocal proponents of this idea, thrilled that men finally got some attention from the body-positive movement. 
But if you believed the campaign, like many did, then the joke was on you. 
On April Fool's Day, American Eagle announced that the #AerieMan campaign wasn't real. "American Eagle Outfitters proves once again they're not afraid to take a risk and have a laugh in support of a good cause," it announced in a press release. 
In truth, men of different sizes were not going to be new spokespeople for the brand, nor were they even going to model underwear on its website. In fact, Aerie wasn't selling men's loungewear or underwear at all. The idea that these men would be modeling for Aerie was, essentially, just for laughs. 
When Mic asked for further comment then, Aerie rebutted, "#AerieMan was not a prank but rather an opportunity for us to raise awareness about body positivity."
So, in a sense, Aerie was attempting to raise awareness of a marginalized group by making them the butt of a joke. 
All in all, it didn't add up to people who were supportive of the ad in the first place, especially given how men are also victims of societal pressure to look a certain way. A 2014 study found that body image pressure is increasingly affecting young boys, with nearly 18% of boys highly concerned with their appearance, the Atlantic reported then.
Six months after this debacle, Mic decided to check in on how Aerie is doing — and, maybe more importantly, check in on the state of male body positivity.
"In April, we committed to stop retouching images of American Eagle men's underwear and swim images and showing more diverse body types," American Eagle said in a statement to Mic. "We have already begun delivering on that pledge and continue to hope it will spark more conversation and change in our industry about embracing diversity and body acceptance for men and women."
Since the ad debuted, it's only been good news for Aerie. Since it announced two years ago it would stop airbrushing its models, sales have been continuously up, with comparable sales in the first quarter of fiscal 2016 up by 32%, Business Insider reported in May. So this ad, despite the backlash seen on Twitter, really didn't hurt Aerie. 
While Aerie's business is booming like never before, progress on the male body positivity and plus-size modeling front is, well, pretty nonexistent. Since #AerieMan, American Eagle hasn't cast a male model in an ad or on its website that isn't typically model-esque. And as far as Aerie goes, it's still not selling men's apparel at all. 
"From my perspective, I describe it as it's almost like a ferris wheel," Kelvin Davis, who starred in the #AerieMan ad, said in an interview. "It goes and it stops. We get a little bit of hope and then we see nothing. It's not like with the women's where it's like a consistent movement. There's numerous plus-size female models doing campaigns and spreading this message. It's really saddening for the guys who really want it." 
Since the ad, Davis has shot a few campaigns for Chubbies, one of the few brands that does embrace male body positivity and diversity, and little else. 
Rather than draw attention to male body positivity — which is what #AerieMan's intention was, according to American Eagle — it really only caused Davis to panic, worried that people would think that being a part of this hoax meant he wasn't really trying to be a model. 
"Honestly, what was going through my head [when I found out it was fake] was, are people going to think that I'm this guy who doesn't have a message," Davis said. "A lot of people were upset about Aerie but also questioning my authenticity. But everything I did was 100% authentic. Everything was genuine. But fortunately, people have been like, 'Oh, you are authentic.' That's pretty much my only concern." 
Doug, the other obviously not-so-model-esque guy in the campaign, is actually a guy named Brandon, according to Davis, who makes his living as a professional poker player. 
Meanwhile, the men in the ad who were more model-esque than Davis and Doug — Matt and Devon — are having more fruitful careers. Matt, whose full name is Matthew Noszka, just walked for Jeremy Scott, and Devon, whose real name is Colin Bowman, is signed to Photogenics modeling agency. 
There's also Iskra Lawrence, who was the female model featured in the campaign. Since the ad's debut, the curve model has only become more popular, with 2.6 million Instagram followers, and she's continued to work with Aerie since then. In September, she made her New York Fashion Week debut walking for Chromat. 
Davis, on the other hand, has never walked a runway and remains unsigned. So while the ad might have raised the profile of people like Noszka, Bowman and Lawrence, it did little to help the state of plus-size male modeling or male body positivity at all. 
Still, men like Davis, who's an art teacher in South Carolina, find themselves waiting for their moment to come. Even though there's now a division for plus-size male models at major modeling agency IMG Models, called "Brawn," there's still just one guy signed there: Zach Miko, who got his start modeling for Target. And it's not like you're seeing plus-size guys like Miko modeling for Calvin Klein or Jeremy Scott or even H&M.
The plus-size modeling industry has stagnated. What Davis and his industry still need is a real campaign to let people know this is a legitimate and necessary industry. It's not a joke, despite #AerieMan being one. 
"I think success will be either a campaign or another modeling agency has to embrace our body type," Davis said. "Like Wilhemina or some other modeling company wants to be introducing our version of the plus-size male model. That would be a big deal, and then the idea would start to matriculate. I think what would really have to happen is a consistent message that yes, this is a legitimate movement."
What would also help their movement, if it wants to grow similarly to female body positivity, is more people being outspoken about the importance of showing men with different body types, whether that be bloggers like Davis or celebrities like Zach Galifianakis, James Corden or Anthony Anderson. 
"When you think of women who are body positive, it's like Iskra and Tess Holliday and I feel like the community is so large that it's unignorable," Davis said. "I try to post pictures on my Instagram of as many bigger guys as possible, but I don't want to keep posting pictures of Zach and myself. I want to post in #EffYourBeautyStandards and it's like I can't find anything." 
At this point, according to Tess Holliday, the plus-size fashion industry is even less inclusive for different genders than the straight-sized industry.
"I do think that there are a lot of problems with straight-size fashion, however what they are getting right is the fact that they're representing more genders and races," Holliday said in an interview. "With the plus-size industry, it's one body type and one specific kind of look and it's just like, we're not even showing any male diversity in the plus industry at all."
The fact that plus-size male modeling isn't taking off isn't because men like Davis and Miko aren't trying. It's something that society as a whole isn't taking seriously either, and the #AerieMan campaign didn't help.
While Aerie seems to have only benefitted from the press coming out of the ad campaign, the group that it was supposed to benefit (men who don't look like stereotypical models) remains unchanged. 
If Aerie wants to make that up to them, maybe it should consider including men in its movement for real.
Mic has reached out to Aerie for comment.