Nicki Minaj loses all chill while meeting Lauryn Hill: "I'm in love with you"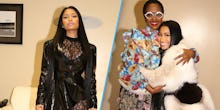 Nicki Minaj bows to no MC in hip-hop — except for one. 
Backstage at the Tidal X: 1015 concert Saturday night, Minaj met her co-headliner Lauryn Hill, who was on-time and on point for her set. Facing the legend, Minaj reacted like most fans who have ever had a moment with Miseducation of Lauryn Hill would. She got down on her knees and bowed. "I'm in love with you," Minaj said. "I'm in love with your spirit, with your mind, everything about you." 
Hill just chuckled like the benevolent queen she is.
Minaj shared the video herself on Instagram Sunday. "Excuse me while I have an outer body experience," she wrote in the caption. "Shaking, crying, a MESS!!! This lady is the reason. Omg. The QUEEN. Goddess! The epitome! The bar! The *faints*. Ms Lauryn Hill told me to keep "spittin dat fire". Is this real life!????"
She shared a second and then a third a little later: "I quoted her in my HS YEARBOOK!!!!!" Minaj wrote on the second. "Like [eight crying emojis]." 
The third was simply captioned with eleven prayer hands and a simple hashtag: "#MsLaurynHill."
According to Capital Extra, which once shared a photo of Minaj's yearbook, the quote Minaj chose comes from Lauryn Hill's "Forgive Them Father": "To survive is to stay alive in the face of opposition." 
Minaj seemed to channel the spirit of those words in large part during her set at Tidal X. Between songs, she launched into an epic rant, praising all the independent women in the audience and getting a dig in at Trump and his wife Melania.
"If you a champion female in this motherfucking building, if can't no weak-ass motherfuckin' clown-ass motherfuckin' nigga bring you the fuck down, make some mother fuckin' noise," she said. "Barack needed a Michelle, bitch. And Bill needed a motherfucking Hillary, bitch. You better pray to God you don't get stuck with a motherfucking Melania."
The Tidal X: 1015 show was a big moment for Lauryn Hill as well. She opened her set with a throwback hymn about police brutality "Rebel/I Find It Hard To Say." Following her set, she released a studio version of the song, her first studio release since 2013's rage-filled "Consumerism." 
Who knows if anything will come out of this profound meeting of two of hip-hop's greatest minds. Minaj is reportedly working on a mixtape trying to get back to her hip-hop roots. Perhaps there's a spot for one of the greatest MCs ever to spit and sing. Time will tell.