Shea Diamond's debut single "I Am Her" is a stirring celebration of transgender resilience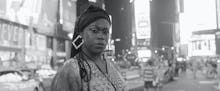 Her name alone is a melody: ShaGasyia "Shea" Diamond. And while her music stands as a powerful decree of fettered resilience, it is Diamond's story, imbibed in every lyrical note of her debut single, "I Am Her," that sets the artist apart. Her entry onto the musical landscape isn't just welcome, it's vital.
"If you had to wear my shoes," she sings, "you'd probably take them off, too." As one of the few out transgender singers signed to a major label, Diamond is already a history maker.
Born in Little Rock, Arkansas, into a gender role she did not accept, Diamond endured what is sadly a common experience for many trans youth: ridicule and exclusion. She felt it from every side: family, friends, the church.
"Starting very, very early, I definitely knew there was a conflict with what I perceived to be true and what they perceived to be true as far as my gender," Diamond said in an interview. "Beginning at 5 or 6 years old, it was a journey of trying to figure out how to hide it. I would have to live out my womanhood in my head, even making little dolls on my finger, because growing up in a Christian home they're watch everything. So if you're even a little effeminate, they're going to call you out on it, everyone from the preacher to your own family."
She could be herself around girls, but around boys she was forced to, in her words, "toughen up a bit." In her teens, Diamond stopped submitting to conformity, deciding to go to school in her truth, as the woman she always was. The stories of trans youth might today seem common, thanks to the increased visibility of figures like Jazz Jennings and Transparent child actor Sophia Grace Gianna, but when Diamond was coming of age, the closest thing to trans representation was RuPaul, a cisgender male drag queen.
"At 14 years old, they didn't even have the word trans," Diamond said. "We were still lady-boys; it was they/them/theirs. These terms we own now were things that they told us then as a form of not respecting the gender we had chose."
After finally successfully achieving emancipation from her family at 17, Diamond soon found herself in jail after committing a crime in an attempt to gain the necessary funds to begin gender confirmation surgery, which, as Time reported in July 2015, can potentially amount to more than $100,000 out of pocket.
"It was a living hell," she said when describing her time in prison. "Everything was a challenge of your gender. They're punishing you for being you, at this point — not so much for your crime."
To make matters worse, she was sent to a men's prison, where even correctional officers would go out of their way to call her "sir." Diamond fought back: "I became a thorn in their side," she said. "Anytime [someone] would misgender me, I was writing a grievance of sexual harassment."
Diamond's outlook began to change when she discovered that there were other trans women in her prison. It was through them that she learned, a year after she had stopped taking hormones, that she could receive her treatments within the prison system. However, with this came further complications.
"I had to fight for things like a second towel to wrap around my breasts," she said. "They would only give guys towels for the bottom, which would mean I would walk around with my breasts fully exposed with all these men and then have to later be in the yard with these same men. It was a safety issue." Finally, after issuing multiple grievances, Diamond was granted a second towel. A small but important victory.
Diamond found an outlet for her pain in writing music. "A lot of family members wouldn't deal with my mother because of how I was," Diamond said. "I felt like it was my fault. But the thing... for me... I just couldn't continue to live a lie. There had to be something that I could do. So I began to write the words and express how I felt. Like how people treated me, and how I made it through that, and learned to accept who I was, and say 'fuck the world.'" After her release from prison in 2009, Diamond began to realize her musical potential.
In early 2016, music producer Justin Tranter, the man responsible for penning hits like Justin Bieber's "Sorry" and Selena Gomez's "Good For You," came across her music after being sent a video of Diamond performing at a black trans lives matter event. He quickly signed her to a production deal with his company, Facet Records.
"To me, the two most important qualities in an artist are a special vocal tone, and lyrics that matter," said Tranter in an interview. "With in the first 10 seconds of hearing her sing 'I Am Her' a cappella, I heard both of those qualities at the highest level."
Asked why he thinks it's taken this long to give trans artists more of a voice within the industry, Tranter responded: "The obvious reasons are transphobia and all the gross bullshit that comes with it. But also I think a lot of music executives make the mistake of thinking that artists who tell very specific stories aren't relatable." 
Tranter thinks the exact opposite: "Just like in great movies, the more attention to detail, the more honesty, the more specific the script, sets, costumes, and actors are, the more we relate to the movie. I think it's the same with singer songwriters."
With an EP on the way in January/February and her debut album expected summer 2017, Diamond hopes to show along with other transgender trailblazers that trans is an identity, not a confine.
"We have to change minds, and in order to change minds, we have to reach their hearts," she said. "We have to let them know that we're not just these gender roles. We are not just the pawns of their jokes. We are not these fetishes. We are mothers. We are artists. We are poets. We are writers."
She continued: "If we are given the opportunity, you'll see that it isn't just one Laverne [Cox], or one Janet [Mock] or one Shea. You'll see that we range all over the world, people are just waiting to be given the opportunity. A lot of people are waiting for these doors to open, but you're gonna wait a long time. We have to be resilient. We have to be forceful. These doors aren't going to open by themselves."
October 17, 2016, 3:09 p.m.: This story has been updated.