Matthew Apperson, who shot at George Zimmerman, sentenced to 20 years in prison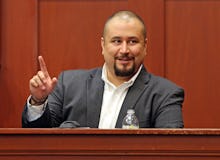 On Monday morning, the judge handed down a sentence in the case of Matthew Apperson, the 38-year-old Florida man convicted of shooting at George Zimmerman. Apperson received the state-mandated minimum, 20 years imprisonment, for his charges, the Orlando Sentinel reported on Monday.
The shooting occurred in May 2015, when Apperson shot at Zimmerman while the two were in separate cars. The single shot that Apperson fired shattered the window in the passenger side of Zimmerman's vehicle but missed Zimmerman, who suffered minor injuries.
Apperson told police that Zimmerman had pointed a gun at him first, a fact that Zimmerman disputed during his testimony. In September, Apperson was found guilty of attempted second-degree murder, armed aggravated assault and shooting into a vehicle.
George Zimmerman is best known as the man who fatally shot 17-year-old Trayvon Martin in 2012, while the unarmed black teen was walking through a Florida gated community. Zimmerman was charged with second-degree murder and manslaughter in Martin's death, but a jury acquitted him in July 2013. 
Zimmerman has been back in the news several times since, including in May when he tried to auction off the gun he used to kill Martin. The outrage over Trayvon Martin's death and Zimmerman's subsequent acquittal was one of the launch points for the Black Lives Matter movement. 
To some, the bitter irony of Apperson's 20-year-sentence has not gone unnoticed.
In the courtroom on Monday, Zimmerman described Apperson as "dangerous," reported the Sentinel, and said he had "blatant disregard for my life, any life."