'The Walking Dead' season 8 release date and what we know so far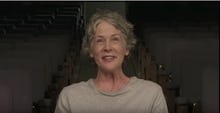 How fitting: The Walking Dead won't die. A week ahead of the show's season seven premiere, AMC has renewed the series for an eighth season that will arrive in 2017. 
This isn't exactly a shocker, of course. AMC's post-apocalyptic zombie series grabs stellar ratings in the important ages 18-49 demographic, and despite a slight dip in audience for season six, hasn't faltered enough for the network to even remotely consider cancelling it. In fact, if AMC has it their way, The Walking Dead won't end for a long time — perhaps until 2022. 
However, while we do know the show will return next year, there isn't much to sift through with regard to plot details. Fans are still trying to figure out who Negan killed in the series' frustrating season six cliffhanger — and that will likely take precedent until we figure out who his victim is in the season seven premiere. 
But if season eight follows the schedule of The Walking Dead's previous seasons, fans should expect it to arrive in October, around a year from now. It's a long ways away, and of course, we haven't even been treated to what's in store for the seventh season, which is poised to introduce a slew of a new characters (and a CGI tiger) to complement Negan's murderous introduction. 
That hasn't stopped the show, however, from already teasing new villains for the series. As io9 reported, AMC shared an Instagram post over the weekend that's a seeming reference to The Whisperers — a villainous group that appears in the comic book source material after Rick and Co.'s conflict with Negan. They're a bit creepy, in that they disguise themselves as zombies by wearing their skin (and they whisper to each other!). 
The Instagram in question teases a moment in the comics where they attacked the Alexandrians and left some of their heads on spikes as a way to mark their territory. 
It seems abrupt to already tease the next nemesis for the show after just introducing Negan, arguably the biggest villain in The Walking Dead's comic book canon thus far. But perhaps it's a tease for what will come into the foray for season eight, a year from now. 
Only time will tell — starting with the season seven premiere on Sunday.