Was the firebombing of the Orange County GOP office terrorism? Here's what we know so far.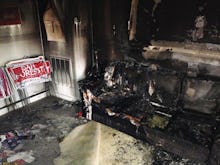 On Saturday night, the Republican Party headquarters in Orange County, North Carolina, was set on fire, and the message "Nazi Republicans get out of town or else" was spray-painted on a nearby building. No one was injured in the incident.
Local police believe the fire was started when a bottle of flammable liquid was tossed through the office's window, according to the Charlotte Observer. The fire reportedly destroyed signs and furniture before "burning itself out."
The North Carolina GOP posted photos of the damage on Twitter. 
So far, leaders on both sides of the aisle have condemned the attack. Republican nominee Donald Trump went one step further, blaming the attack on "animals representing Hillary Clinton and Dems" in a tweet Sunday evening.
Despite Trump's claims, so far there are no reported suspects in the attack. Dallas Woodhouse, the GOP executive director for North Carolina, called the fire "political terrorism," the Associated Press reported.
In a statement released by the town of Hillsborough, Mayor Tom Stevens called the attack a "reprehensible act" with a "hateful message" — but the statement did not use the word "terrorism" to describe the incident.