Flower-infused vodka is about to be your new favorite cocktail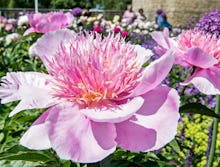 Flowers aren't just for vases — they work in martini glasses, too. Floral-infused vodka preserves the freshness of beautiful bouquets in a bottle all year round, any why wouldn't you want to drink a gorgeous garden?
Unlike artificially flavored vodkas, which can be chemically altered to taste like marshmallows or a fruit plate or sriracha or just another drink entirely (mimosa vodka is a thing), infused vodkas get their unique taste from natural botanicals, which release their flavors into the booze, more similar to making tea than stirring sugar into tea.  
According to A History of Vodka by Vil'iam Vasil'evich Pokhlebkin, vodka has received the infusing treatment since the 17th century, "with additives intended to impart a particular taste," including orange blossom, caraway, peppers and more flowers and herbs. Hundreds of years later, bartenders and at-home mixology geeks have embraced the tradition of infusing vodka for flavor, but new bottled varieties make it easier than ever to sip a bouquet on ice. 
If Oprah's August 2016 "O list" didn't tip you off to Peony Vodka, which is distilled five times and infused with botanicals ranging from geranium, white pepper, peony flower, gardenia and more, you're going to want to grab a bottle of your new booze obsession. 
"The vast majority of all vodkas on the market are either 'neutral' meaning they seek to be odorless and tasteless, or are flavored with artificial ingredients," Leslie Farhangi, who founded Peony Vodka with Three Meadows Spirits said via email. "By using natural floral essences, we feel we're able to capture the flavor and the ambience of the relaxed country lifestyle. There aren't many people that would tell you they don't like the smell of flowers — as the adage says: You should always take time to stop and smell the flowers!" 
Peony Vodka is created from ingredients cultivated in New York's Hudson Valley, just a few hours out of the city on a farm that dates back to the 18th century. On the 200-year-old Duchess County farm sits a row of antique peony flowers, which Farhangi explained she wanted to use in her vodka recipe that would be rich in botanicals. 
"Peony is not a 'flavored' vodka, but it has the flavors and aromas that make it perfect for enjoying on the rocks or in cocktails," Farhangi said, noting that the botanical blend "enhances literally any traditional vodka or gin cocktail." Think of a plain table and then a table decorated with flowers. Yeah, you know which is better.   
While Peony may be mystical in taste, the botanical infusions which have natural health benefits, are not added in quantities great enough to actually affect your health, sadly. "We don't claim that Peony is a health drink -- with the exception of lending itself to relaxation and good times with family and friends," Farhangi said. Cheers to that! 
You can drink Peony straight up, over ice or in your favorite mixed drink.