Can Hillary Clinton really win Arizona? Here's why she's making a hard play for the state.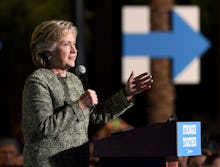 With the election just 22 days away, Hillary Clinton is trying to run up the score in a campaign that is hers to lose.
During a conference call with reporters on Monday, Clinton campaign manager Robby Mook announced a slate of new spending in key battleground states across the country, aimed at boosting Clinton's prospects and helping Democrats on the state and local level.
Mook said Democrats plan to spend $100 million to help Democratic candidates by Election Day, in what he called an "unprecedented" effort to help down-ballot candidates.
The new spending includes $6 million in new direct mail and digital ads in Ohio, Florida, Pennsylvania, Nevada, North Carolina, Iowa and New Hampshire. The investment is a mix of campaign funds and money from the Hillary Victory Fund, a joint fundraising effort with the Democratic National Committee, according to a Clinton spokesman.
Going on the offense in Arizona
The most revealing facet of the new round of spending is the campaign's investment into Arizona, which has voted for only one Democratic presidential candidate since 1952.
Mook announced that the Clinton campaign's "coordinated effort" will spend over $2 million in new television, direct mail and digital ads in Arizona.
"Donald Trump's hateful rhetoric and deeply disrespectful remarks about Sen. John McCain have made Arizona more competitive," Mook said, referring to Trump's long history of attacking the 2008 Republican nominee. "This is a state that would really foreclose a path for Trump to win the White House."
Mook also said that the campaign is ramping up its surrogate operation in Arizona, announcing that Michelle Obama will travel to Phoenix on Thursday. Chelsea Clinton and Sen. Bernie Sanders are also scheduled to hold events in the state this week.
Clinton made a six-figure advertising buy in Arizona back in September, which struck many as an odd commitment at the time. Over the summer, Trump was considered the clear favorite to win Arizona, due largely to his anti-immigration message in the border state.
But not anymore. The Clinton campaign's decision to pour money and resources into the state is an indication that Democrats are going on the offensive with just over three weeks until Election Day, hoping to reclaim the Senate and make a dent in the Republicans' majority in the House.
Trump's recent vulnerability in previously dark-red states is not entirely surprising. The Trump campaign has devoted few resources to building a ground operation in Arizona, with just five paid staffers from the campaign and the state and national parties on the ground, according to NBC News. However, the candidate himself has held numerous rallies in the state over the past several weeks.
Clinton's chances of winning Arizona are about even, and the numbers have been trending in her direction. Polling has been scarce in the state, with the RealClearPolitics average showing Trump holding just a one-point lead. The most recent poll, taken in early October, found Clinton up by two points. FiveThirtyEight gives Clinton a 54% chance of winning the state.
What a Clinton victory in Arizona would mean
A Clinton win in Arizona would be disastrous for Republicans and point to a rout by Democratic candidates up and down the ballot on Election Day. Even if she doesn't prevail, the campaign's deployment of resources in the state will force Republicans to play defensively and spend money that could otherwise be used to fund operations in traditional battleground states.
The Clinton campaign's expansion of the "coordinated campaign" on Monday is in line with this trend. The campaign and its joint fundraising apparatus is devoting funds and resources to helping candidates in competitive gubernatorial and Senate races, including spending $1 million in Illinois and Missouri — the latter a long shot for Clinton to win, the former solidly in her corner.
Mook said Trump's recent attacks on fellow Republicans after weeks of revelations about his history of treatment toward women presents an opportunity for Democrats to capitalize in races across the country.
"The bottom line is that Donald Trump's erratic behavior and now-spiraling campaign have left the Republican Party in a civil war," Mook said. "With signs of high turnout across the country, Democrats have a historic opportunity to elect not just the first woman president, but leaders across the country who will work with her."
Mook also said that Clinton hopes to personally appear in the state before the election on Nov. 8.
Mic has ongoing presidential coverage. Please follow our main election hub as well as coverage of Donald Trump and Hillary Clinton.