Presidential debate predictions: What to expect from Hillary Clinton and Donald Trump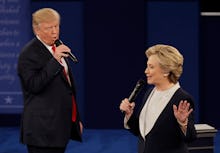 The end is in sight. On Wednesday, Oct. 19, the third and final debate will begin at 9:00 p.m. Eastern, broadcast live from the University of Nevada in Las Vegas. 
Given that Hillary Clinton shone at the last two debates while her opponent, Donald Trump, dissolved into tantrums, it's reasonable to expect that the Democratic candidate is poised to excel at debate number three. With Trump pouting about his portrayal on Saturday Night Live, inexplicably calling for pre-debate drug tests and still refusing to take responsibility for the myriad sexual assault allegations against him, it's possible that his performance in this round will run a similar course. 
The only way to know for sure is to tune in, but two days out from the big event, here's what we can expect. 
What pundits said after the first and second presidential debates
Following the first presidential debate, senior CNN political analyst David Gergen wrote that Clinton won, hands down, but that it didn't drive the nail into Trump's coffin. Trump's supporters aren't here for more words from politicians; they don't care that the media sides with Clinton — in fact, that's a hindrance, not a helper, Gergen wrote. CNN commentator and legal analyst Mel Robbins agreed, writing that Clinton essentially did too good a job — was "too presidential" — while Trump loudly spouted nonsense. 
Clinton arguably won the first presidential debate, but her victory did not drastically change the voter landscape: She enjoyed a boost in national support, but the so-called "win" did not do much to change Trump supporters' minds.
Coming off a less-than-impressive performance in the first debate and a sex scandal, Trump needed only to meet the very low expectations his party and many viewers had for him during the second debate. He was loud, his arguments did not follow in a logical sequence and he lied — but he still exceeded those low expectations. Once again, Clinton won, and once again, Trump's poor performance neither hurt nor helped him. 
Post-debate polls put Clinton ahead of her Republican opponent, but that may have had more to do with the #TrumpTapes leak two days before the debate than it did with his performance.
Highlights from Trump's debate performances
During the first presidential debate, Trump interrupted Clinton 28 times. He suggested that she was too weak to be president and didn't have the requisite — read: masculine — look to fill the role. He fat shamed the individual responsible for the Democratic National Convention hack, speculating unnecessarily that they might be a 400-pound person just sitting in their bedroom somewhere. He lied about his position on the Iraq war and he sniffled incessantly, prompting Howard Dean to wonder aloud if Trump might be a cocaine user. 
Faced with disturbing recordings of the Republican candidate boasting about sexually assaulting women — and saying some gross things about his daughter — that surfaced just before the debate, Trump's primary task was to deflect attention elsewhere.
As such, he invited the women who've accused Bill Clinton of sexual assault to the debate. He pivoted to ISIS when first asked about the tapes. He told viewers Clinton "should be in jail." He doubled down on his shaming of former Miss Universe Alicia Machado. He perpetuated some racist stereotypes about African Americans and inner cities. He did not manage to shake his sniffles.
Finally, given the release of the video in which Trump boasted about his crude and non-consensual advances on women, the GOP nominee's decision to aggressively loom over Clinton throughout the debate likely reinforced the perception the candidate is just plain creepy.
Highlights from Clinton's debate performances
Throughout both debates, Clinton largely conducted herself with the restraint befitting a presidential candidate and offered articulate, coherent answers to questions. During the first round, she "successfully walked the line between offering a positive vision for the country and tweaking Trump just enough to make him fly off the handle," in the estimation of Mic's Stefan Becket. 
She goaded Trump for his misogynist treatment of women, hitting him hard for his bad business practices, his mysterious tax returns and his habitual lies, turning her campaign site into a fact-checker for the occasion. And when Trump suggested that her time spent preparing for the debate, rather than campaigning, was ill-spent, she delivered the perfect sound bite.
"You know what else I prepared for?" she said. "I prepared to be president. And I think that's a good thing."
The second debate got off to an uncomfortable start when the candidates met on stage but did not shake hands, Clinton instead offering Trump a cool "hello." From there, she nailed Trump's character, saying the #TrumpTapes represented "exactly who he is." She highlighted the ways in which his alienation and verbal abuse of minority groups has divided America. She demanded of Trump an apology — to President Barack Obama for the nonsense birtherism movement, and to Americans in general. 
How they're polling nationally ahead of the final debate
Following the first two debates, Clinton is ahead of Trump in most polls and in many swing states. According to a Quinnipiac University poll released Monday, Clinton leads Trump 51% to 40% in Colorado; 49% to 45% in Florida and 51% to 45% in Pennsylvania. In Ohio, she trails the Republican nominee by one percentage point. 
An NBC News/Wall Street Journal poll released Sunday puts Clinton 11 points ahead of Trump in a four-way matchup with third party candidates Gary Johnson and Jill Stein, and 10 points ahead in a one-on-one race. She was 20 points ahead of Trump among female voters, with 55% support to his 35%. Male voters exhibited a slight preference for Trump, with 48% to Clinton's 45%.